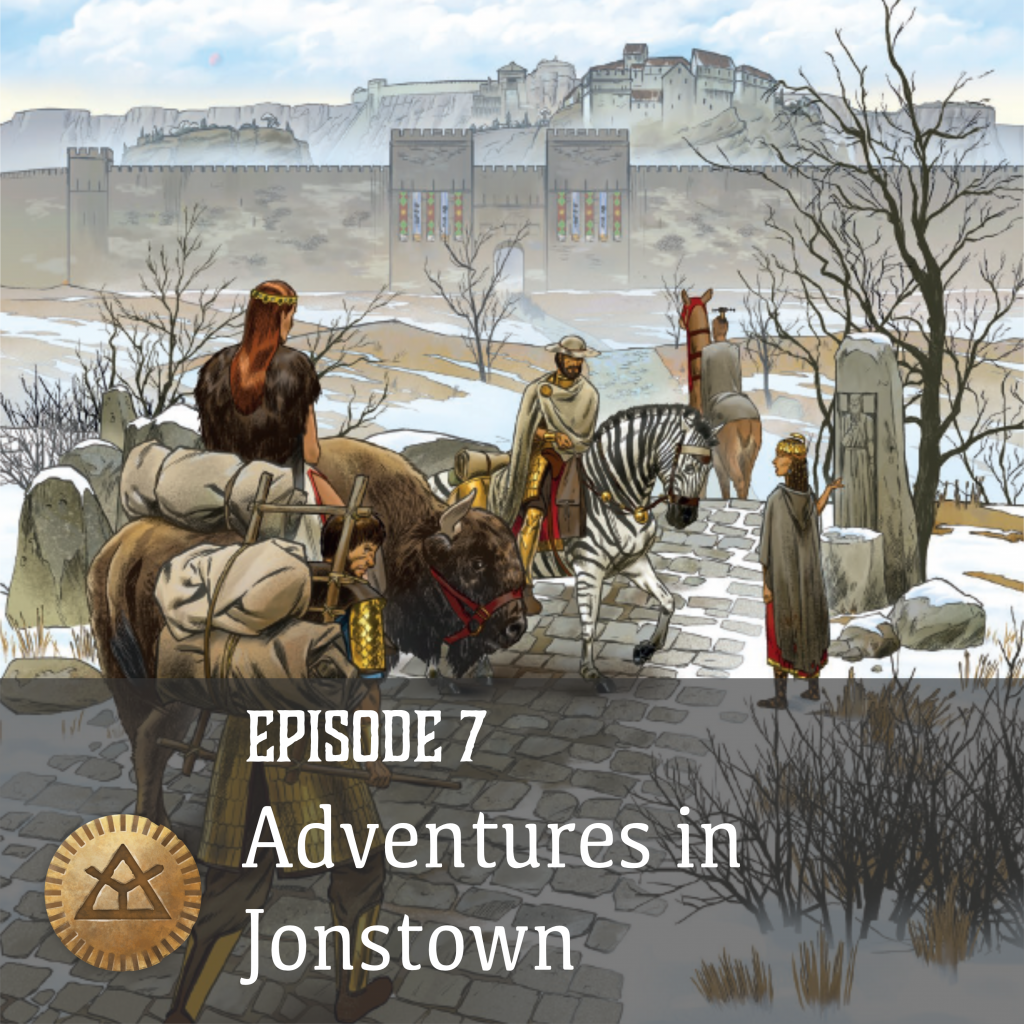 Ludo and Jörg are joined by Diana Probst, aka Berra from Beer With Teeth, bravely entering a realm of unreal time before sunrise.
News
Episode 2 of our Initiation to Glorantha series was released, and teasing upcoming interviews, including Diana's
Ludo is chuffed about his review of the starter set making it onto the Chaosium blog.
The PDF of the Weapons and Equipment Guide is out, and it's up to the listener whether to believe Diana's tale of how her name appeared on the cover (There is no take-over of Chaosium's Glorantha line by Beer With Teeth, according to Diana: "Too much work").
The concept of providing your standard RPG lists of sharp and otherwise deadly items in context with the culture is what makes this a Gloranthan product,. Saying that it has been a dive into a Gloranthan midden might be mis-interpreting Ludo's experience.
We discuss Chaosium's naming sense for their Gloranthan products. Gamemaster Screen Pack for a scenario book with a sandbox was underselling the product, and the Weapons and Equipment Guide is really an introduction to the material culture of the world.
The New Gamemasters Month starts this January, a guided seminar teaching new game masters how to actually run a roleplaying game. Chaosium contributes with the RuneQuest Starter Set.
New on Jonstown Compendium we find To Hunt A God, the final volume of Austin Conrad's Myth of the Month.
Diana is teasing that Beer With Teeth are about to deliver a manuscript to Chaosium supporting the Starter Set.
We mention Dario Corallo's cardboard minis for the Rainbow Maps scenario, the Holyday Dorastor products The Seven Hills (containing eight scenarios) and two short christmas-themed ones, Krampuslauf and Joulupukki.
The Gloranthan West gets some attention, too, with the first in a series of map PDFs of Gloranthan regions starting with Kanthor's Isles, and then there is Nick Brooke's art-book illustrated by Katrin Dirim explaining The History of Malkionism.
(As always, you will find the complete listings of Jonstown Compendium new releases in our weekly Newsletter/Blogpost Journal of Runic Studies)
Main Topic
Adventures in Jonstown
In our main topic we aim to explore how to take the RuneQuest Starter Set and get more scenarios out of it.
Jörg praises the resources the city has to offer to adventurers (player characters), like the library.
Diana points out that by having played through the scenario the adventurers will have built up a reputation in the city,
We discuss how rather lengthy training efforts can tie an adventuring party down (e.g. ability training, which takes two seasons), and that the city of Jonstown can offer scenarios to do on the side without lengthy travel that would interrupt such training.
Ludo points out that the background information in the Glorantha Book (book 2 in the box) is designed to be given to both gamemasters and players, which means that all the information in that book contains hardly any narrative spoilers.
We discuss the motivation and background of the City Rex of Jonstown, Orngerin Holdfast, and his possible future.
Diana describes her modus operandi for preparing a gaming session. "At first I panic because it is only half an hour until the game." and how she gets inspiration out of the headings of the book, and considers what would happen if one of those things have a problem, one that the adventurer party can be pointed at.
Jörg suggests to use the efforts to get the tribes to work together and form a cohesive military as the backdrop for inter-personal conflicts or even inter-tribal politics, using any of the NPCs in the book as a catalyst for the adventure. That could be top-down, as Ludo points out, or there could be minor street level events escalating.
Diana wants to involve the adventurers in the preparation for such an assembly and joint training.
Ludo suggests to look into the factions of the city and explore their agendas for scenario hooks and a web off intrigue.
Ludo mentions the Cherry Ridge groves with its medicinal jerret cherries tended by the Chalana Arroy cult (p.57), and how anything happening to the cherries may involved the local clans. He also reminds us why your characters will want to stay on the good side of the Chalana Arroy temple.
We talk about Birne's Squeeze, already mentioned in the Colymar Adventure Book, as a place where you can expect bandits. How do these bandits become your problem? Your players might hire out as caravan guards in the region. Traders with unusually valuable goods may hire more guards than usual, but then there may be a risk that there might be bandits among those new hires. Might even the player characters, or they might join up to investigate what that caravan really is transporting.
A Life of Crime vs. Heroic Adventuring
Ludo talks about sorting his scenario hooks into "Below" hooks dealing with criminal or lawless agendas, and "Above" hooks with possibly more heroic stuff or politics out in the public.
There might be spies or spying for the Lunars going on.
Diana confesses that she often lets herself be surprised when it comes to criminal or covert activities in her games.
Ludo brings up the good old player suspicion of perfectly non-descript throw-away or "soup" characters that may derail your entire prepared plotline, and advocates to confirm the players' story instincts. Diana suggests using a roll on the player characters' POW to decide how right they are.
Jörg suggests using NPC record sheets as discussed in the Passions episode to develop such characters more or less on the fly.
Ludo maligns the Hornos brothers as the ultimate crime bosses, and how they might be the crime lords behind all underworld activities in Jonstown. Diana proposes a more political dark secret tied to their collaboration with the Lunar occupation forces and administration, and of course their massive profits from trading Lunar war booty.
Ludo brings up the problems plot possibilities that might result from having acquired somebody else's heirlooms through some of those deals.
Diana points at Lyserian Goodspeech, the former City Rex under the Lunar occupation, and how he avoided being sent into exile because his tribe threw their full support behind him.
For the grognards, Jörg points out that all the traders in Jonstown would have been associates of Gringle, the pawn shop owner from Apple Lane who had gone missing following the demise of the former Thane of that hamlet.
At the very least, the connections to the Gamemasters Screen Package with its description including the hamlet of Apple Lane are a good tie in if you prefer to run published scenarios.
The circumstances of Gringle's disappearance are described in the old HeroQuest/Questworlds demo PDF Return to Apple Lane.
You All Meet in a Pub, or in a Bathhouse?
Gaining a connection with regular residents of Jonstown, putting names and faces to the generic stats provided in the book.
Socializing can happen in the pub, in public baths, in the Chalana Arroy hospital, joining the militia.
Ludo expounds how relatively harmless militia duty may lead to favors that residents of the city may owe your adventurers.
Jörg points to the police procedurals on TV where militiamen (well, cops) come to interfere with plots of some of the high and mighty, possibly putting them in their bad books.
Diana talks about how crafters (and really all economic activities) come under the scrutiny of the guilds, and that suitably skilled adventurers may be offered (or demanded) a guild membership, which opens up another social circle of interactions and vested interests. Ludo mentions how the guilds (or the sages, or other temples) may act more easily as quest-givers if one of the adventurers is already a member of that organization.
Jörg points out that all the provided adventurers fail to mention any spouse or permanent love interest, and how providing some may connect the party to the place and give family or in-laws as another possible source of quest-givers or plot hook anchors.
Diana describes how she brings up marriage, childbirths etc. in the Sacred Time review of the year meta-session where the regular income and spendings of the characters are determined. She also uses marriages as rewards for adventures. (Keep in mind that temporary marriages are a big thing in Orlanthi society! Having a spouse for a year will not tie you down interminately!)
Ludo suggests that sufficiently notable characters might be pushed by their superiors towards political marriages to further some agenda. Even if it is over by next sacred time, that extra connection can be valuable.
We digress on discovering possibly unsavory skin care habits of new spouses, and being walled up upon discovery of those…
Ludo brings up the Noir Detective story genre, or the old chestnut of getting your clothes stolen in a bath, possibly mistaking them for somebody else's ones suspected to contain plot hooks.
Diana rejects any and all accusations of planning forward her adventures. Instead, she uses NPCs the characters have a relation with and who they judge to be politically astute. Whether correctly so remains to be discovered. Between Jorjera Latish and Orngerin Holdfast, Diana reckons one is politically astute and the other may or may not take her their leads.
Introducing Plot Hooks
Ludo lists patrons and quest givers (potentially any of the important people mentioned in the book).
Diana suggests to look at the player characters' passions, starting with Love Family or Loyalty Clan or Tribe which everybody gets. You can introduce plot-carrying NPCs as belonging to one of these target groups, or map the role of plot-carrying NPCs to an existing NPC contact in your game.
Diana offers "Miraculously, whatever the character is good at is exactly what the tribe wants of them." Ludo counters with "These people are disposable."
People from the place you stay at may serve as quest givers.
Amid pronunciation debates Ludo points to the opening in Wulfsland created by the majority of Jomes Wulf's followers abandoning the former Maboder lands, and all the neighbors and kin of the previous owners may vie for.
Ludo suggests a plot line where the adventurers escort a group of people intent on re-settling those lands, only to find squatters or rivals with a similar claim having arrived before them, or about the same time.
Jörg points towards plots in the city that were formerly owned by the Maboder, starting with their tribal manor. We discuss things that may be found in their abandoned manor (or that of the Cinsina who left the Jonstown confederations a few years later), and that their portion of city plots may have gone to the Lunars, who aren't here any more. (Many of their tenants still are, though, and may be looking at an insecure future.) Diana brings up buried hoards in some of the houses, left by people having to leave in a hurry.
Ludo suggests to have characters with "Hate Lunar Empire" protect and escort people still loyal to the Lunars moving out.
We discuss the ongoing trade volume with the Lunar Empire and the travel opportunities joining a trading caravan to Tarsh or just the still Lunar-occupied Far Place.
We discuss spying done by people in these caravans, and whether or how often traders of the Etyries cult will travel to and through Jonstown, bringing their Lunar goodwill habits to an audience that may be unwilling to accept that. Scribes and sages are information gatherers anyway, and might be used by opposing powers. And then there is Eurmal.
Diana suggests that if you play a spy game, create a bunch of eligible candidates and randomly determine who dunnit. Jörg brings up the Paranoia RPG's concept of everybody following two secret agendas, and we riff on potential secrets within secrets plots.
Diana tells about a murder mystery where all player characters thought they had killed the victim (which actually had not been killed at all, but disappeared).
The Darkness Within Jonstown
Ludo suggests to use another common passion, Hate Trolls, and the fact that the Torkani tribal mansion houses trollkin for an involved crime investigation to hand to the militia, where the head librarian and known glutton with a sweet tooth Garangian Bronze-Guts gets a nightly visit by trollkin which doesn't go undetected, while at the same time somebody else filched a scroll with possibly dangerous information, but definitely one a senior member of the temple cares about. Now the trollkin who did break into the library get identified and falsely accused for the scroll theft, and it is up to the militia how to deal with this.
(What is it about the sweet stuff, Ludo? Even the tale of a visit to the Block made you talk about sugar cubes…)
Ludo explains his prep work for something like this, giving the real theft maybe a paragraph or two in preparation, and improvising from there. Diana points out that this is fine for your personal game if you are an experienced gamemaster, but if you want a scenario you can hand over to a GM inexperienced with the setting or the rules, you will need to note down some alternatives for possible courses of action.
Ludo talks about keeping the pacing, so if your player adventurers interrogate the trollkin, they ought to learn more than just that they did steal the sweets. Possibly they saw a robed (or prominently bearded) person sneaking away during their escape.
Jörg suggests an alternative where the real culprits, or some other party desiring the stolen object, assumes that the player characters have the lead, asking enough leading questions during an uncomfortable interrogation that the players can pick up a lost trail.
Diana talks about NPC defenders of the story arc, and to place them as companions and plot-drivers with a group of inexperienced player investigators.
Diana outlines how she manages her NPCs in a fairly simple spread sheet, and how to find stuff in that.
We return to the trope of the players ignoring all the plot hooks and following the harmless NPC they feel is suspicious, and the resignating gamemaster yielding to the collected wisdom of the table and making that NPC a bearer of the plot.
But in the end, keep it small and as simple as you can get away with.
Ludo talks about the Schrödinger's Reward, where a job well done as much as a job catastrophically failed at will lead to the same follow-up adventure, either to atone for the failure or because of the show of competence.
Jörg suggests to give the adventurers low-level contacts in all the institutions that might come up in their upcoming shenanigans to have at least one boot inside the door, and Diana suggests to have the adventurers bask in their fame for a job reasonably well done, getting offered free drinks as well as free plot hooks when they visit their pub or bathhouse.
Diana tells a tale about infant ducks (durulz) coming to take a look at the famous people (the adventurers) who might be able to heroically help them out.
Diana talks about taking inspiration from looking at the maps.
Ludo elaborates how reading about the system of food distribution among citizens inspired him to look for ways how people could abuse that system for their own advantage, whether through fraud, forgery, manipulated weights… and then goes into the dangers of having too many opinionated intellectuals in a small place.
"The dog ate my homework" and what kind of ideas just mentioning that can trigger.
Joh Mith is a valuable NPC because of his wide-ranging connections outside of Jonstown, and some of those may be enemies with a hostile agenda.
Creating characters from Jonstown using the RuneQuest Wiki simplified character creation rules offers a way to bring in replacement characters.
We discuss a few possible follow-up scenarios on the Jonstown Compendium, and talk about some of the smaller Beer With Teeth scenarios that have ties to some of the adventures in book 4 of the starter set.
Other community content scenarios or sand boxes set in the region:
Apologies if we missed any other pertinent Jonstown Compendium content – we advise our listeners to visit there and discover things for themselves anyway.
Credits
The intro music is "The Warbird" by Try-Tachion. Other music includes "Cinder and Smoke" and "Skyspeak", along with audio from the FreeSound library.
Diana's Post Credits Bonus
In a last minute recording, Diana reveals what project Beer With Teeth is working on for Chaosium. Their manuscript is ready to hand out, but the book is likely a long ways away.
Podcast: Play in new window | Download (47.9MB)
Subscribe: Apple Podcasts | Google Podcasts | Spotify | RSS | More