Welcome Participants
May Orlanth toss those that profane these rules from his cloud
May Vaneekara cast those offending souls into the maw of oblivion
Worse yet, may Eurmal detune these curs' lyres at the worst possible moment
Should malfeasance be their goal!
Glorantha Has Talent? is a contest running on our Wind Words podcast until Late September/Early October or to put it another way, until our 8th episode is published). We will receive entries until the 21st of September 5th of October, midnight PDT (later at the judges discretion, only) (the deadline has now been extended). We are looking for short (no more than 3 minutes) audio files with Gloranthan content that are entertaining, evocative, and that sound nice (or at least memorable), ideally all at the same time.
Things we would like to hear include, but are not limited to: jokes, short oral myths, filk songs, or more nerdy stuff that could help a player get into character… like traditional Gloranthan greetings, Heortling boasts, a memorable gaming scene reenactment, or similar stuff you may have done for your gaming table's entertainment. Surprise us, the judges and our audience with yet more ideas brimming with Gloranthan Goodness!
Let's keep it all in the spirit of maximum game fun, so treat the judges and their decision with respect as well as your fellow contestants.
We will funnel your works on to our judges after a quick vetting. The judges will cull the entries down to our finalists and then will vote on our Prince, Chieftain, and Thane (first, second and third prize). Please note that the above Sartarite titles are unisex.
Your contribution may be made public (in MP3 format) on godlearners.com where it will be on display for all to hear, in its full glory. Beyond this use of your recordings to benefit our website and podcasts, the copyright on the entries remains with the content creators. The content creators can reserve the right to withdraw an entry from publication at any time, removing it also from "Glorantha Has Talent?".
To be considered a victor we will need the rights to your work for the duration of the contest guaranteed (including for advertising, posting, and then possible broadcasting). Future rights remain with the copyright holder and must be renegotiated for further use.
Copyright held by third parties will hold sway.
"Let's take the assumption that you happen to do a beautiful rendering of Boris Mikey's filk song "The Day the Flame Died Down" to the melody of Don McLean's "American Pie", possibly with the slight re-arrangement to fit the words better to the melody by Nick Brooke. Any of the people listed here plus the performers receive the right to demand a withdrawal of the recording from publication. If necessary leave it to us to edit an already broadcasted episode of Wind Words if we need to remove copyrighted material.
"In order to avoid such bummers, the less material copyrighted by third parties you use, the less chance of losing that work."
The judges will talk about your submissions, and possibly why they chose them. Bear in mind we don't bite, They will treat your quirky pieces, badly thought out ideas that come to naught, or half page of scribbled lines with care and sensitivity, be assured.
Record your entry digitally, somehow—everybody reading this has a cell-phone or a computer capable of recording sound. Good sound quality will be a quality of its own, but content and ideas will balance that and bear in mind lo-fi is a thing that might be used to your advantage.
Upload your sound file from your device memory either as an e-mail attachment to tribe@windords.fm or upload it to https://www.dropbox.com/request/aORt2e9DPOg7RqEHnput. The Wind Words team will take it from there. If you want to add some corroborative material (a photo or video of you performing, a cover image, a transcript, sheet music, an animation), feel free to do so. It may sway the judges, but remember that the presentation of your entry is on an audio only format.
Guide for the Judges
Use
1. entertainment
2. Gloranthaness
3. production values
,,,as your guides. And then add in your own values. Be ready to defend these on air.
Principles
Ludo's notes that he penned for the judges, above are a great guide, but we do have a few more principles we would like to introduce to you as well. They are briefly mentioned below.
Fun
Fairness
Simplicity
Nice Judging
Glorantha-ness
The Contest Rules
Entries have to be follow these constraints (Judges might tend to leniency)
Audio-media must be sent to "our dropbox in the clouds" in most modern audio formats
No more than 3 minutes in length.
In good taste and PG 13.
Must allow us publishing rights for the Podcast and Web-Site for the duration of the contest. Further rights may be negotiated.
Entries will be received until the 21st of September, midnight, PDT (later at the judges discretion, only).
Judging
First vetting done by Podcast Crew
Those that make the cut go onto the judges for the finals, Each judge gets three votes to distribute as he or she sees fit and may divide these in any way they choose or give all three to one entry. We will cull half the entries at this time to those with the most votes. Ties will be decided by Bill, Jörg and Ludo as above (3 votes, etc).
And then for those who advance, three then will be chosen to be our Prince of Entertainment, our Chieftain of Mirth and our Thane of Good Humour (first, second and third).
In disputes or disagreements, Ludo, Bill, and Joerg's joint decision will be final!
Who may not enter
The podcast hosts and the podcast crew, judges, and those who have given prizes for the contest Glorantha Has Talent?, AND their families.
May we wish you all the best of luck!
Bill, Jörg and Ludo!
The Prizes
To begin with, we will list Glorantha Has Talent?'s prizes in alphabetical order? Why? Well, we don't have a first second or third place prize! We are well aware that one man's treasure can be another man's, "been there done that, already got the `Tee-Shirt!" kind of deal.
So, no sequential order of prizes, for us. We all know how a Prince, Chieftain, or Thane will be chosen, right? No? Well, look up to the top of this doc to check out the Rules as pertains to Judges.
The Prince, as chosen by our wonderful judges, gets the first and the fourth choices of the prizes. The Chieftain gets the second choice and The Thane (number one in our hearts, but number three in the selection process) chooses—well, 3rd!
So let's gave lo look at our prizes…
The Booty!
Chaosium, Nick Brooke, and Austin Conrad of Akhelas have graciously donated the following wonderful PDFs of their works as prizes and in the case of Austin and Nick they have said they will specially mod the PDFs for the contest. These publishers have been at this for a while so I will let them describe their treasures in their own way! Mind you, I have been working with Austin on his great collection for 3/4 of a year, so I am honoured to put in a bit of a kind word for our prolific genius and his oeuvre.
A Rough Guide to Glamour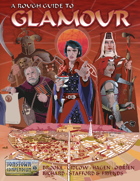 A Rough Guide to Glamour
By Nick Brooke, Chris Gidlow, Michael Hagen and friends
"One of our great prizes is a unique digital edition of A Rough Guide to Glamour, the Jonstown Compendium's first Gold best selling title. It's your indispensable tourist guide to the capital city of the Lunar Empire, and much more besides, including a city map and gazetteer, two RuneQuest cult write-ups, history, art, fiction, poetry and more."
Monsters of the Month – January to August!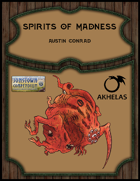 That's right! Eight months worth of terror, wonder, awe and cuddly cuteness—all at once.
Austin Conrad has offered the first 8 issues of his wonderful series, Monster of the Month as his treasure to be chosen to by our worthiest and the wisest competitor! He says that those who chose his treasure will also get a special memento from him! Hmm!
His cute, horrible, and awesome pets, all created from his fevered imagination, are in order of appearance:

And a yet to be written 8th issue, I can't wait!
The Pegasus Plateau & Other Stories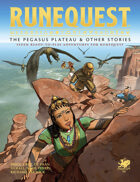 Authors divers and varied
From Chaosium
Seven ready-to-play adventures for RuneQuest!
"Set in the mythic fantasy world of Glorantha, The Pegasus Plateau & Other Stories features seven complete ready-to-play adventures, taking you from ghoul-haunted catacombs, into mystic ruins, across the arid deserts of Prax, and up to the rocky pinnacle of the Pegasus Plateau!
"Additionally, The Locaem is a new tribe for use by gamemasters and players, and the lonely village of Renekot's Hope, perched between the Lunar Empire and its enemies in Sartar, provide refuge… or a springboard for adventure!"
The Smoking Ruin & Other Stories
Authors divers and varied
From Chaosium
"The Smoking Ruin & Other Stories contains ready-to-play adventures for RuneQuest, taking adventurers across the untamed South Wilds, a region filled with reclusive villagers, ancient ruins, beast folk, troll spirits, undead, wolf-brothers, dinosaurs, monstrous mercenary companies, living trees, surly river spirits, and worse!
"The book also offers a closer look at some significant locations in the South Wilds, and some more adventures – there's the Wild Temple, a massive open air holy site, the Lost Valley which offers an interesting little community, and the adventures Urvantan's Tower in which the fate of the Lost Valley relies on quick action from the player characters and Grove of Green Rock, in which the player characters can get hired to help a massive elven project to establish a new sacred grove in Dragon Pass."
Legion
Thanks to the generosity of Neil Gibson, we have an extra prize!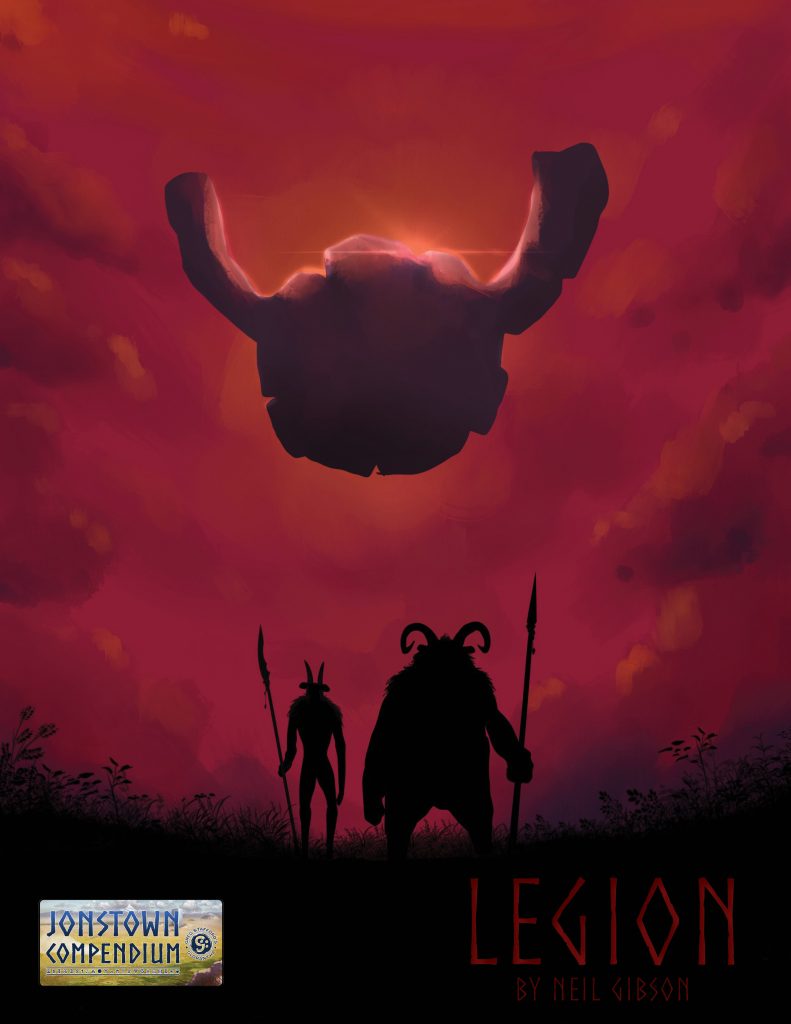 Legion is the silver best-selling Broo NPC supplement for GMs running RuneQuest: Roleplaying in Glorantha games.

Broo are a prolific and varied adversary. This supplement provides 94 pre-rolled Chaos enemies from the aspirant lay members to deadly Rune Lord / Priests as well as new deadly diseases that will challenge even the most dedicated Chalana Arroy priestess. Includes 4 beautiful, full colour, full page Broo portraits.
So we look forward to hearing your entries and giving you your choice of these great prizes. Record your work of art, and enter soon!