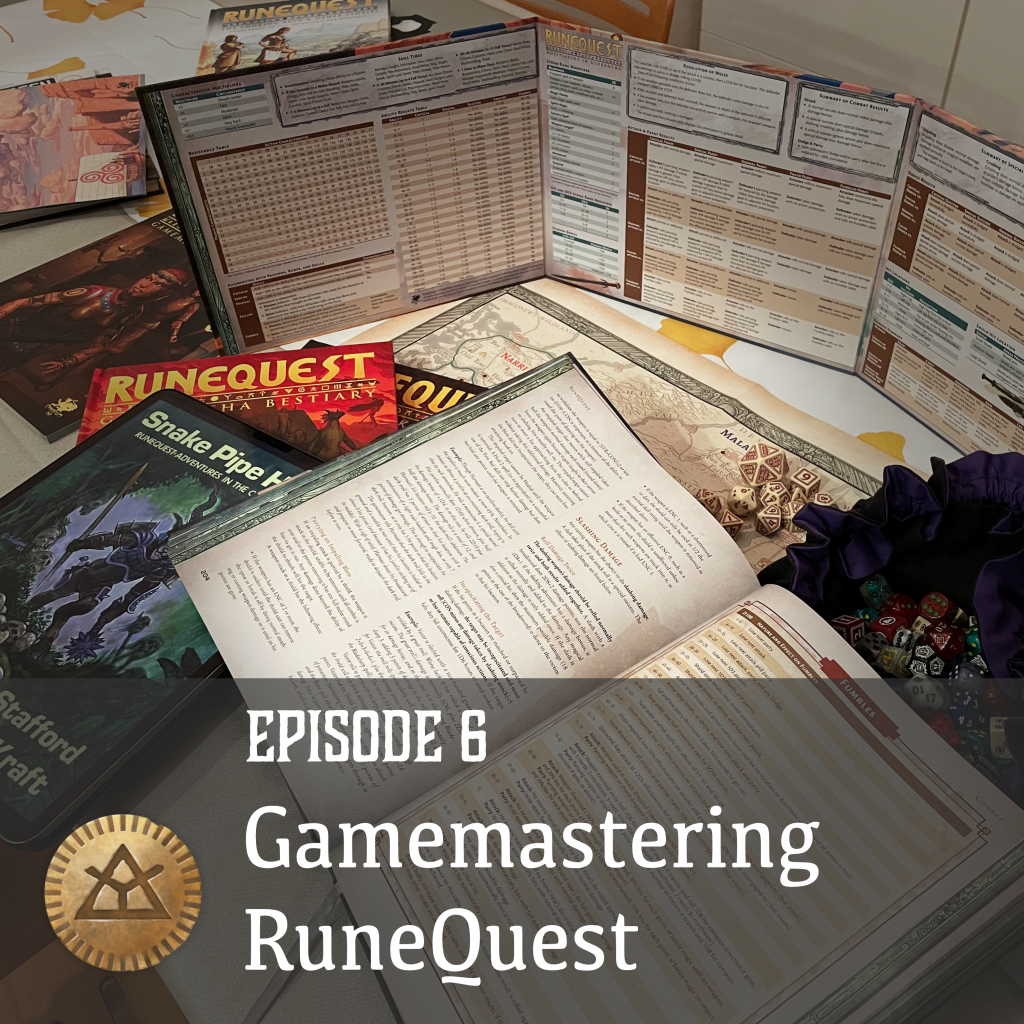 This topic was actually suggested to us by our guests Jon Webb and Neil Gibson.
Jon Webb is the initiator and an author of the four volumes of the Sandheart series, following the challenges of the militia of a remote Sun County hamlet. Also featured on the Chaosium Blog.
Neil Gibson returns after gracing us in our first God Learner Podcast episode, with ducks in the pipeline.
News
Starter Set out in the Wild
We talk about the solo-quest and the scenarios. Jon needs to maintain his innocence for a while until his GM has presented those scenarios, while Neil has already spoilered himself.
Neil talks about working on a solo-quest.
Jörg points out that the solo-quest is available online on the Chaosium website.
Equipment Guide
We discuss the fantastic cover of the upcoming Equipment Guide.
Ludo talks about a rather reserved reaction to receiving an equipment book.
Chaosium Convention
April 2022 in Ann Arbor: ticket sales have started on Chaosium's website, and other than Ludo none of the panelists are planning to attend due to distance and distancing.
We speculate on Chaosium Conventions elsewhere, and Neil reports that 2022 is not going to have an Australian one due to the pandemic.
Main Topic – Gamesmastering in Glorantha
Jon confesses that listening to episode 1 and talking about different styles of play gave him the idea for this episode.
Types of Campaigns
Ludo addresses the amount of crunch GMing RuneQuest brings compared to other games, and how that can become tricky at times.
Neil talks about his current campaign using the Sandheart books, how entire sessions can go on without combat as he uses the scenarios in the series and encounters or player-driven activities in between, and a mix of scenarios – both dungeon-bashing and bouts of negotiation and diplomacy.
Jon (unsurprisingly) has similar experiences, and mentions how Call of Cthulhu altered his GMing style, and how that may have changed his gaming group as well. He also talks about giving his players complete freedom as both he and his group dislike railroads, and how deadly combat will be (both in Cthulhu and RQG).
Ludo addresses lessons from horror and investigation rpgs, finding solutions to problems like pacing and mood and how to have the story progress.
Jörg has a railroad through the stories in his sandbox, with the players ignoring the rails, and how his games are character-driven both in the sense of character background and in the players' ambitions for their characters. And how that can make pre-written scenarios harder to use.
Neil observes that the White Bull campaign run by Jeff Richard appears to be very Argrath-driven (as the titular NPC patron).
Ludo goes off-script discussing how the meta-plot can ground the characters into the world.
Neil expounds how being followers of Vega Goldbreath, in opposition to Count Belvani,
Making big changes to the timeline.
Subsystems in RuneQuest
Ability rolls, simple skill rolls, opposed rolls, chained rolls
Jon shies away from repeated rolls on the same skill, e.g. Track.
Neil tells an anecdote about rolling to disembark, and how a fumble doing that carried over into the combat.
Ludo plugs one of his Runic Rants articles on opposed rolls, ties, etc. and how a tied roll will change the playing field to different skills.
Jörg breaks a lance for repeated rolls analogous to combat. Ludo mentions extended contests and how a ticking clock will be a diminishing resource.
GM-Screen Usage
Neil talks about how playing online replaces the GM screen. There are rolls that the GM does rather than the players.
Jon values the brutal honesty of the rolls, even if it leads to total party kills.
Ludo talks about dice-driven games, and when he overrides the dice for the sake of a good epic story. RuneQuest with its Old School vibes can go either way.
Jörg talks about player-initiated combats vs. scripted combats, and how the scripted ones may be a lot less deadly or a bit harder as there may be ways to reinforce the story – to a certain degree. Also, turning a hopeless situation into a "barely survived as prisoners" situation (as in many a James Bond movie).
Another option is invoking heroquest conditions at a point, where the more magical environment may offer new options, and how the change in environment makes the appearance of a deity less of an ex machina. New complications may bring new options to resolve a situation.
Players rolling GM rolls – shifting the blame to the players
Leaving the gritty details like the hit location after a successful opponent's hit to the player with the affected character.
Split parties open up the players whose characters aren't involved in a conflict to roll the other players' opposition. Also, in big combats, players would take over other players' characters' opponents and roll against them.
Ludo talks about opportunities to flip dice rolled behind the screen before revealing.
Phantom rolls, or how to stoke player paranoia with leading questions.
Rules Discipline
Diligent book-keeping and adherence. But YGGPMV – your Gloranthan game-play may vary. And game fun rules.
Not all opponents need to be at full health at the start of a combat, either.
Neil asks for name generation on the fly. Ludo comes prepared there, with lists of names, and possibly lists of personalities and motivations, too.
"Bor-ees Jan's Son."
Neil and Ludo use spread-sheets of all the NPCs, color-coded for attitude etc.
NPC passions, or NPC morale.
Jon advodates two modes of play – non-combat free-flowing or round-based, where only combat-related information is used. He also avoids rolling for interactions between NPCs, narrating those.
Neil laments the occasional loss of finely crafted monsters to dice luck, and we discuss ways around it, as in "monsters have mothers too", or "it's the same monster but with a moustache". (Which may apply to the monster's mother…)
When to roll, when not to roll
"If you win, the NPCs win, if you lose, they lose."
Distributing rules mastery to the players.
Limiting players' time for questions.
Statement of Intent. Changing intent (resulting in delays, or at lowered chances of success).
Battle Map vs. Theater of the Mind
Preparing maps for Roll 20 and similar, or for tabletop combat.
Clutter in the scene.
Different scales on battle maps.
Strike Ranks in the game as a hindrance? Strike rank tracker (as in the Starter Set).
Paired-off combatants when all player characters are engaged vs strict sequence of strike ranks.
Speeding up combat
Rolling all dice at once.
NPC actions and motivations.
Not having to look up rules details (like spells, criticals) in the middle of combat.
Disengaging from combat
Conflicts with plenty extras
Party Death, Party Size
Divine Intervention reducing character deaths.
Occasional rune levels and their influence on the game,
Reaching rune level, frequency of experience checks.
POW or CHA 18 as hard goal on the way to rune level.
Lack of ambition enjoying the human side vs, career-oriented character concepts.
Skills lacking skill check boxes
How strictly do you play "next season" between adventures to resolve experience checks?
Gloranthan holidays as reasons to refuse the call to adventure, votive figures.
Reusable rune magic for all as slightly reduced motivation to make it to rune level.
Regaining rune points from associated worship.
Sanctifying for rune points from your own ceremonies.
Tips for managing danger or threat levels.
Occasionally getting the match wrong after 30 years of GMing.
One trollkin with a critical head-shot will topple any balance.
Playing monsters sharper or dumber.
Overplaying your monsters.
The whack-a-mole monster where a monster offers few occasions to hit it.
Monsters beyond accidental kills by lucky rolls.
No clever last words…
Where to find our guests
The Sandheart books:
Tales of the Sun County Militia: Sandheart Volume One
The Corn Dolls & Fortunate Sun: Sandheart Volume Two
Tradition: Sandheart Volume Three
The God Skin & Mad Prax: Sandheart Volume Four
Neil calls for volunteers for his work-in-progress, a duck soloquest. Contact Neil on the RuneQuest & Glorantha Discord server (@BOLG), on other discords like the Chaosium Discord, or failing all those via our email collective@godlearners.com. You might know Neil's work from episode 1, like LEGION.
Credits
The intro music is "The Warbird" by Try-Tachion. Other music includes "Cinder and Smoke" and "Skyspeak", along with audio from the FreeSound library.
Podcast: Play in new window | Download (49.9MB)
Subscribe: Apple Podcasts | Google Podcasts | Spotify | RSS | More