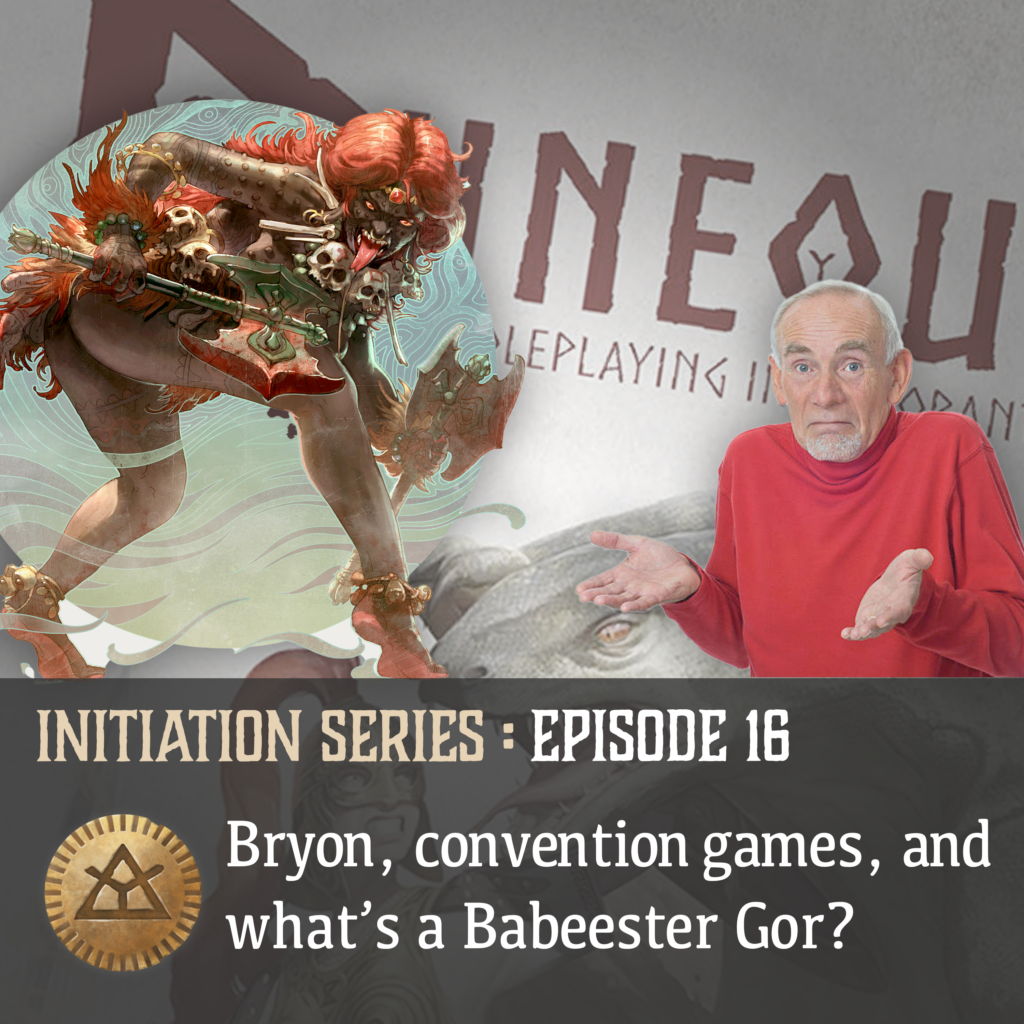 In this month's Glorantha Initiation interview, Ludo talks to Bryon Ross without any Joerg present. Bryon is a long time RuneQuest lover, but he played mostly with the Fantasy Earth setting until the release of the RuneQuest Quickstart in 2017. He is also a retired marine, SCA participant, and regular Chaosium convention gamemaster.
You can find Bryon here:
Show Notes
Among the many things we're ranting about in this episode, you'll find:
Running convention games for Chaosium's Cult of Chaos when the RuneQuest Glorantha Quickstart came out (Origins and GenCon first year, Pax Unplugged a few times, etc)
Discovering RuneQuest 2nd edition by looking at Apple Lane and/or Snakepipe Hollow on the game store's shelves
The wonders of the RuneQuest hit location chart
Collecting a lot of books from the old Gloranthan product lines, and (gasp!) highlighting passages in them
Trying to answer the question "what is a Glorantha?"
Northern European vision of Bronze Age slowly transitioning to other, more Mediterranean and Mesopotamian mental pictures
The Mythology and the Runes are real in Glorantha
Explaining Glorantha in a very excited way to new people at conventions
The integration between the setting and the mechanics, also featured in other games such as:
40 years of catching up is daunting, but RuneQuest Glorantha nicely focuses at first on the Colymar clan to keep it simple: no need to worry about Ralios, the Eastern Isles, or whatever
RuneQuest 2n edition didn't even have many areas covered anyway
Converting D&D modules (Bryon later told me it was Judges Guild's "Caverns of Thrasia"), placed near Larnste's Footprint because there's some Chaos stuff there
Tying Runes to personalities can be confusing, because you have to learn what Runes actually mean, and what they can augment (compare to Pendragon's clearer and more obvious Traits)
Some cults can be fairly niche and, again, you have to learn what they are… what is a Babeester Gor?
So you want to play a hunter… do you want to worship Yinkin, Foundchild, or Odayla? What are these anyway, and why are there three of them?
The integration of world and setting means that there is a lot of lore exposition needed to explain the mechanics, and vice versa
Building spreadsheets to keep track of all the temples across Dragon Pass!
Bryon's video series on the Red Book of Magic, and what he learned meticulously reading through it
The many editing issues in RuneQuest Glorantha books: POW vs POW rolls, sentence construction, Spirit Combat, etc.
It's tricky to change or tweak Glorantha when you don't feel like you're comfortable with the lore yet
Sorcery is hard: Bryon's Lhankor Mhy player has a spreadsheet!
Shamanism is hard too: lots of "realizations" about spirits and the Spirit World during play, after the first interpretations proved to be too game-breaking
Using Cyberpunk's netrunning as an analogy for the Spirit World
Spirits can't always sort through all the auras and spirits they see, so they are unreliable spies
Bryon's game is mixing homebrew adventures with published ones like The Fainting Spirit (Cult of Chaos only), the Rattling Wind, etc.
Bryon's game was railroady at first, but came to a crawl when it became more player driven
Dungeon Master's Block technique: use Magic: The Gathering cards to generate ideas for the who/what/where of the campaign's story threads
Grabbing existing adventures from many other games and systems to fill the blanks
Mutant Year Zero's procedural scenario generation card deck
Roleplay Cafe's and DungeonCraft's (aka Professor Dungeon Master) YouTube channels for more game prep tips
Bryon's recommendation for newbies is to play the Quickstart, and he wished he had gotten the White Bear & Red Moom board game earlier!
Credits
The intro music is "Dancing Tiger" by Damscray. The outro music is "Islam Dream" by Serge Quadrado. Other audio is from the FreeSound library.
Podcast: Play in new window | Download (28.8MB)
Subscribe: Apple Podcasts | Google Podcasts | Spotify | RSS | More