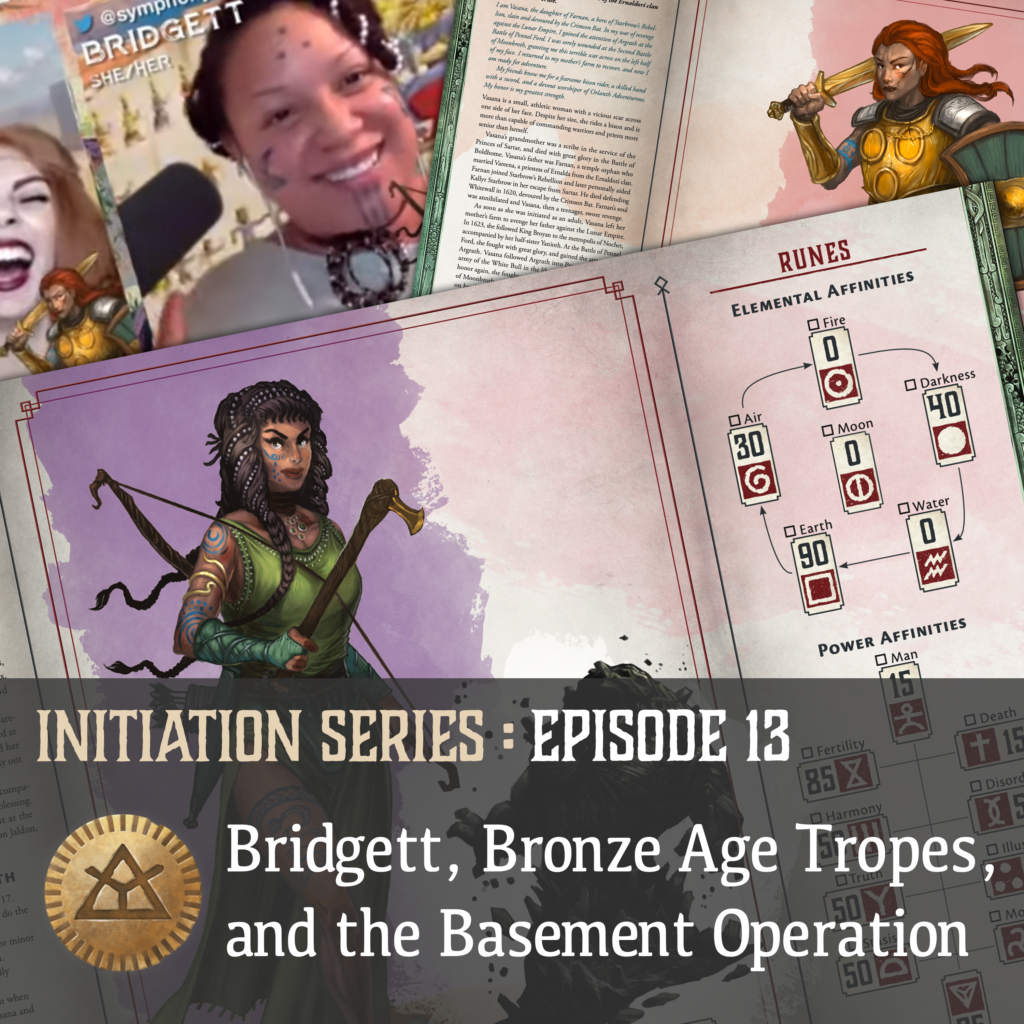 We kick off this new season of the Glorantha Initiation series with the lovely Bridgett Jeffries, aka "the happiest voice in cosmic horror"!
About Bridgett
You can find Bridgett all around the internet, but in particular:
Show Notes
In this episode we talk about:
Playing AD&D, Champions, and Battletech as a covert operation in a basement with middle-aged men
Chaosium's RuneQuest Starter Stream, and the New Hero actual play
RuneQuest 3rd edition, its fantasy Earth, and Glorantha as a separate setting
Moral ambiguity in Glorantha: nothing is straightforward, everything comes with the "weight" of the lore and the setting
Activating Runes or Passions to augment rolls is dope!
Having an assistant GM to help with the rules is great for a game like RuneQuest
It's hard to relate to the Bronze Age, compared to other eras… what even is the Bronze Age?
The problem with gatekeeping by grognards (old fans), and letting newbies discover and play the game in their own way
Tropes vs lore (see also this essay I wrote on the subject)
The Rome TV series, Troy, The Ten Commandments, Alexander
Tropes of the Orlanthi: violence is always an option, no one can make you do anything, follow chosen leaders
Tropes of the Bronze Age:

Religion is politics (priest kings and such)
Cities with temples on hills, markets full of merchants and mules and slaves, philosophers on soapboxes

Tropes of Glorantha:

Everybody comes from their own culture, with their own reasons to do things
Use the Runes as a guide for how cults fit in the world, use archetypes first and lore later
Spirits are everywhere (shamanism, animism)

Getting used to magic being everywhere
Glorantha is flat, the Underworld is below, rivers used to flow upwards!
The Jonstown Compendium is awesome
Drawing Earth Runes on your face
Using the RuneQuest Starter Set's art as reference
The trolls are political refugees
Exploring Glorantha, your Glorantha 101 YouTube series
Credits
The intro music is "Dancing Tiger" by Damscray. The outro music is "Islam Dream" by Serge Quadrado. Other audio is from the FreeSound library.
Podcast: Play in new window | Download (30.2MB)
Subscribe: Apple Podcasts | Google Podcasts | Spotify | RSS | More