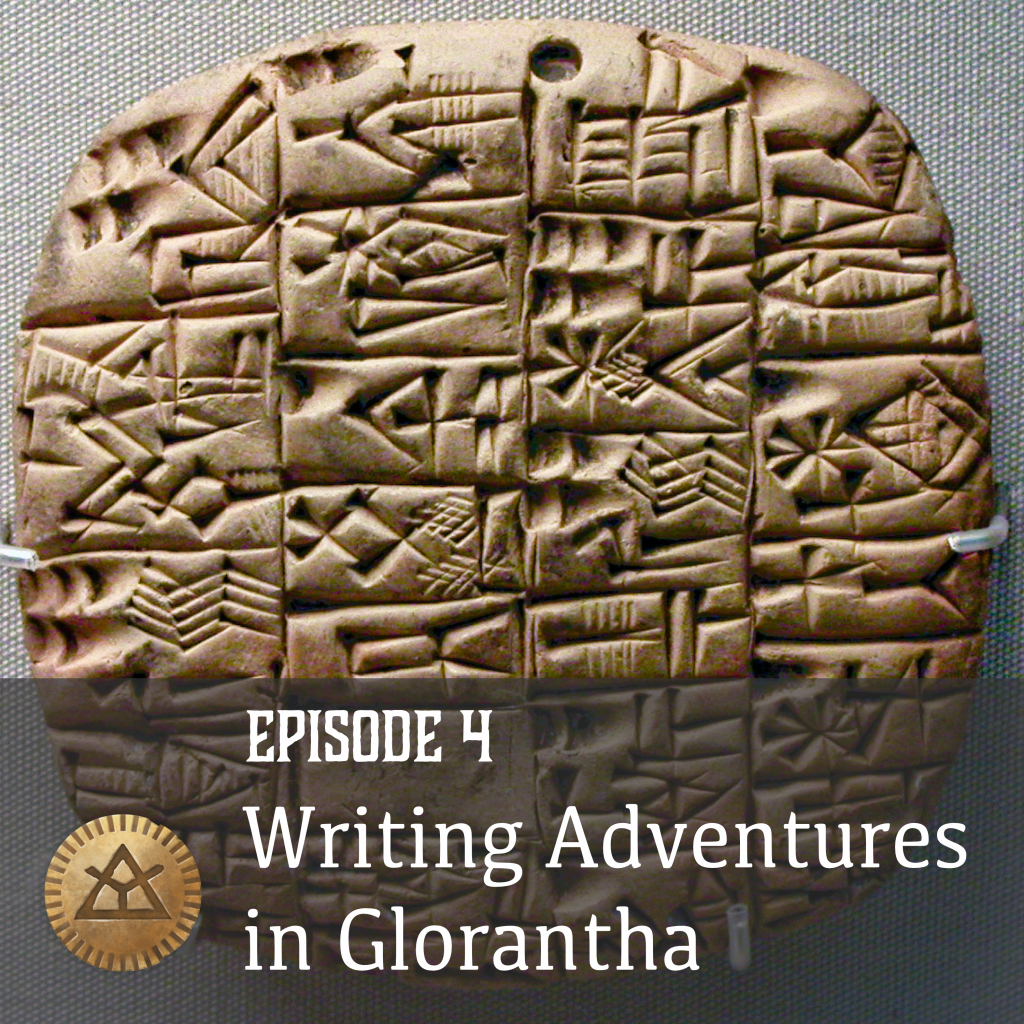 This episode's guests are Beer with Teeth, at time in character:
Erin (aka Varanis, a noble of Sartar lineage)
Dom (aka Rajar, a huge Storm Bull axe fighter)
Diana (aka Berra, a tiny Humakti warrior)
We also learn about their original GM Tom who is at fault, and about Kris who is the resident visual artist.
Why Beer With Teeth, and how they arrived at the logo.
Current Glorantha games played: one in the classical era, meant to end with the Cradle, one in the current timeline which had Kallyr come back after the Battle of Queens, and another such game run by Diana, currently digging into their characters' previous history.
The campaigns combine published stuff and "making stuff up".
Keeping several games' plot-lines aligned when different GMs and parties advance at different paces.
Ludo talks about his games, and Dom discusses Cthulhu.
Using the Ars Magica trick of guest Gming in the main game (GMed by Tom), which is how
"A Tale of Woodcraft" came about – drawing plot cards.
Diana adds how Crimson Petals (Pegasus Plateau) came from that guest slot GMing
Ludo plugs our Newsletter "Journal of Runic Studies"
News
The Starter Set first observed in the wild at GenCon
Links to 3rd party unboxing videos, Andrew Logan Montgomery's review.
Glass Cannon play-through as an example how the RuneQuest rules may be tough for newcomer GMs and players.
On the virtues of starter sets.
The GM has to decide which aspect of the rules you pick for a given situation, and what you ad-lib rather than sticking to the rules.
About the complexity of the RQ rules – at least as initial hurdle.
Hero Wars/HeroQuest being too niche and not suitable for many old school RuneQuest players.
Erin mentions the "training wheels" for the Witcher system, and would like to see something similar for RuneQuest.
Diana proselytizes by "grabbing random people from the internet".
Erin tells how she got drawn into the game: "Just for one night!".
Print version of Cups of Clearwine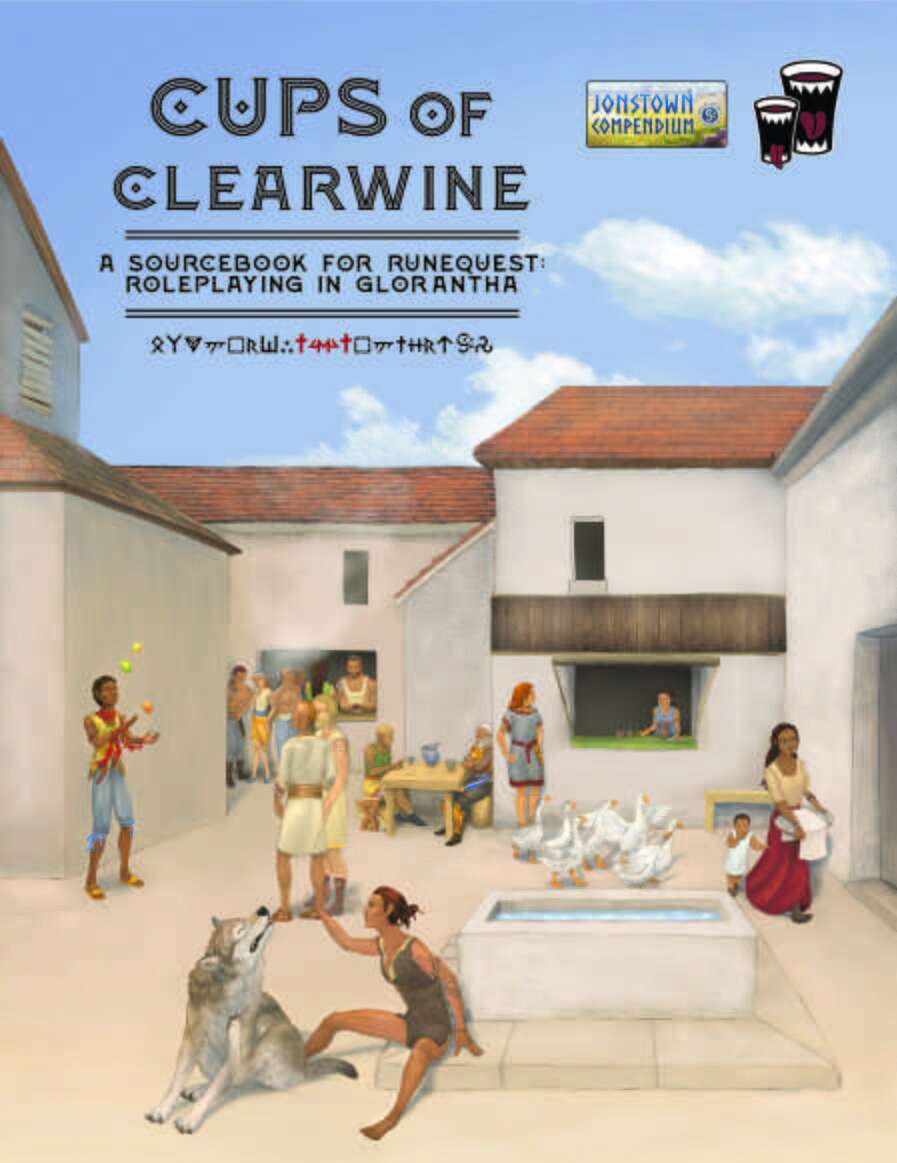 The elf-skin version of Cups of Clearwine makes our guests quite chuffed.
Jallupel Goodwind – The Whirling Moon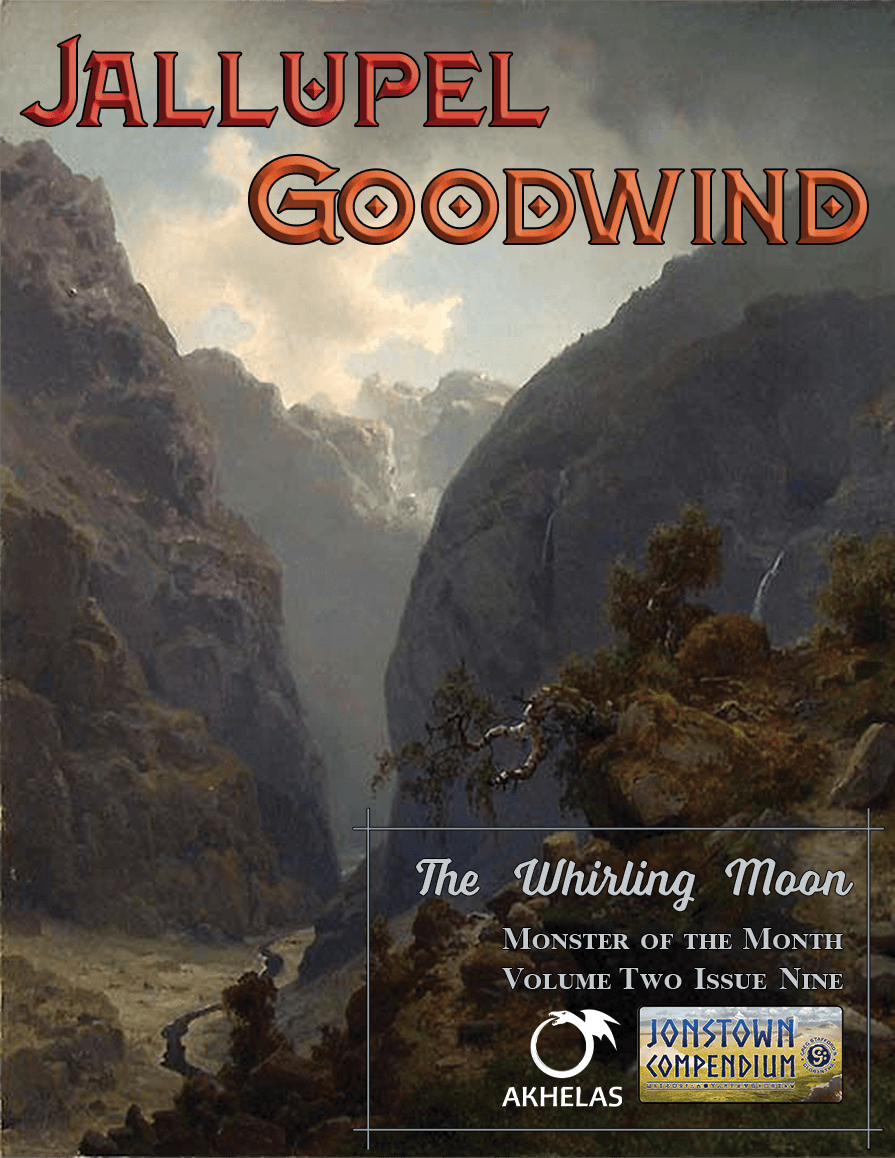 Myth of the Month Vol 2 issue 8 by Diana writing for Austin Conrad/Akhelas, including a scenario.
Use of passions, but also lots of rolls on the Battle skill.
Jeff Richard's previews on Sartar Campaign material on Facebook
Erin learning stories and background, Jeff's posts on Facebook.
Main Topic: Writing Adventures
Dom tells about his cooperation with Diana to create the interim scenario in their main campaign as guest GMs.
Erin talks about disappearing into those deep rabbit holes of research, and that writing game scenarios is somewhat different from writing stories.
Dom shares his (complete) notes from which he meant to run that scenario – about seven hand-written lines covering half an A4 sheet.
Diana tells how her lack of familiarity with GMing RuneQuest led her to pre-write a large range of tasks and challenges, and how that happened to be quite close to Chaosium's submission guidelines.
Ludo points out investigative methods (like John Tynes' concept of the Investigative Sandbox).
Nudging players rather than imposing railroad.
Diana talks about player characters working their way up from followers towards the movers and shakers.
Dom thinks in terms of cool scenes that he wants to inflict on the players which strangely are going to happen where the player characters walk.
Foreshadowing, plot hooks, or red herrings?
Introducing minor things that become useful hints later.
Red herrings created by players may be turned into plot hooks.
Prophecies – heroes fighting against one another, a test of strength of truths.
Themes
Adventures vs. arcs. Personal arcs and passions.
Lethality in the game
NPC stats.
Adjusting opponent ability, numbers and smartness to the player party.
Resurrection is always an option, both for departed player characters and NPCs.
Playing NPCs smart.
Creating NPCs as communities.
How much does the past reach into the design process. How much archaeology?
Finding something old (e.g. in Clearwine, which has history and pre-history), as items, or as shards and in middens.
Populating houses in Clearwine drawing a terrible map and then using "RuneQuest Cities" results as inspiration. (RQ Cities is really a reprint of Midkemia Press' "Cities", which is still available in all its OSR glory).
Pre-defining tension between the NPCs like in Dregs of Clearwine.
Erin foreshadows another Clearwine book.
Researching ancient technologies – charcoal-making, glass-making.
Family structures in Bronze Age society – multi-generation households rather than core families.
Researching Bronze Age
Erin riffs about how writing game material offers her an opportunity to make stuff up rather than sticking to facts (and citing all the sources).
(If you don't know it, The Motel of the Mysteries is a book about creative interpretation of archaeological finds. The pdf linked is a very short version for educational purposes)
Suggested reading lists cut, and Dom's woes GMing for experts in their fields playing characters with those skill sets.
Erin plugs Ritual In Early Bronze Age Grave Goods by John Hunter as one of her inspirations.
Dom talks about his role as the Glorantha grognard in the Beer With Teeth collective.
Cave walls with bronze bands – "yes, you are walking in the body of a dead god here".
Glorantha is about magic, myth and belief, and conflicting truths may be tested against one another.
As the Game Master, your presentation of Glorantha defines the setting for your campaign. Your Glorantha will vary, possibly between campaigns you run.
The sense of community, manifest as the wyter entity, is a unique trait of the setting.
Use of Runes as hooks to pull player characters in
Runes creating personalities that lead to motivations, e.g. in The Gifts of Prax.
Horses with character (expressed as runes, though not with magic associated).
Making a campaign unique by changing one (major) feature in the setting for that campaign, like e.g. "Argrath is dead".
Kallyr survives the Battle of Queen in the Beer With Teeth campaign, and the potential for story and conflict inherent in this.
Links
Credits
The intro music is "The Warbird" by Try-Tachion. Other music includes "Cinder and Smoke" and "Skyspeak".
Podcast: Play in new window | Download (46.6MB)
Subscribe: Apple Podcasts | Google Podcasts | Spotify | RSS | More