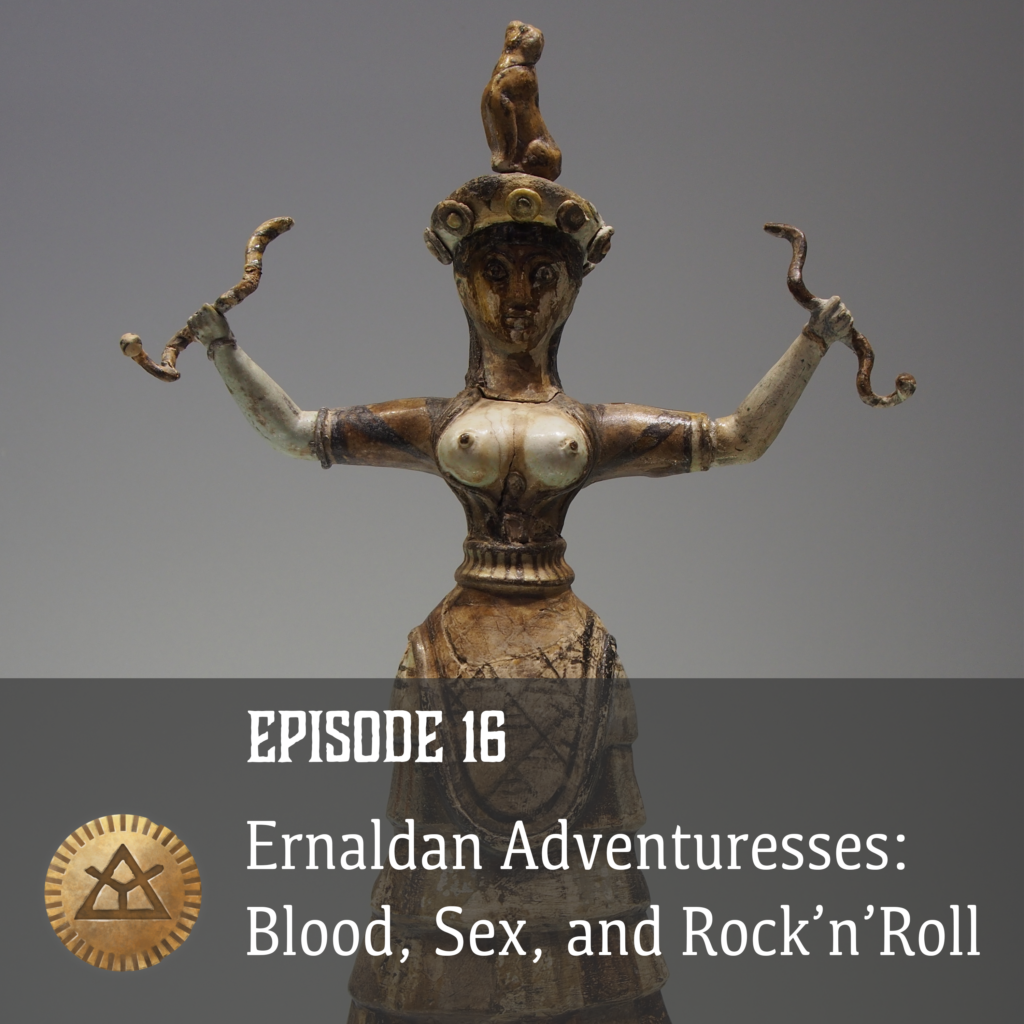 For this episode we welcome two guests: Katrin Dirim and Claudia Loroff.
The Guests
Claudia is part of Jeff's house campaigns with notable characters like Gina Gravedancer in the White Bull campaign, Yanioth, and the snake-dancer mystic in the HeroQuest Glorantha examples. Claudia is also the author of an upcoming Gloranthan cookbook. It is about 95% done, and is a travel guide accompanying Yanioth and Sorala, from Boldhome via New Pavis to Wintertop.
The difficulty level is kept rather low. There are recipes for starting your own yeast or sourdough, although you can buy finished starters. The travelogue also takes down their experience, like pub crawls, feasting with Argrath, etc. Kitchen hardware includes a fire-pit, a big cauldron (preferable out of enchanted iron), and the usual cutlery.
Katrin is the sole illustrator of the upcoming Prosoaedia, with two pieces in the Starter Set. Katrin is also prominent in the Jonstown Compendium, as in History of Malkionism, Six Paths, some pieces in Corn Dolls, and a major contribution of map-like illustrations for the travelogue narrative and numerous smaller pieces in Martin Helsdon's upcoming book on ships and sailing around southern Genertela. That book will also feature quite a number of illustrations by Mark Smylie. See links at the bottom of these show notes.
Ludo talks about the Aztec-like style of representations of deities for the Prosopaedia and the pantheon maps.
Main Topic: Ernaldan Adventuresses
Today's topic is about Ernalda, the Queen of the Gods.
Claudia as the professional Ernalda player does a short presentation of the Earth goddesses.
We learn about the in-house brainstorming sessions between Jeff Richard, Claudia and Neil Robinson about how to make the Cult of Ernalda playable for adventuring. The Cult has been around for a long time – she only finds mention as associate cult in Cults of Prax, but her cult was the first to be published for the third edition of RuneQuest, in booklet 5 (the short introduction to Glorantha) of the deluxe boxed set. This was presented in the same long cult format that was used by both Cults of Prax and Cults of Terror (and in the other RQ2 products with cult descriptions).
Ernalda and the accompanying Dendara would remain the only full cult write up for a few years, followed by Kyger Litor in the Trollpak reprint and the expanded other Troll Gods (and Kyker Litor again) in that box, and the three major Elder Races cults in Elder Secrets: Mostal, Aldrya, and Kyger Litor (yet again). The RQ3 Renaissance brought us updated cults of Yelmalio, the Lightbringers from Cults of Prax, Zola Fel, Cacodemon and the Cults of Terror reprint Lords of Terror.
Claudia advocated a course for playing Ernalda cultists that she dubs as "Blood, Sex and Rock'n Roll". Ernalda is about sacrifices of animals, with the meat being used for feasts giving back to the communities, and her rites also include quite a bit of sex as a healthy community requires a steady supply of children.
Ernalda is at the heart of the Orlanthi communities. Claudia points out that initiates and even more so God Talkers and Priestesses of Ernalda are welcome in any Orlanthi community.
Claudia stresses the importance of the Charisma spell and how her characters tend to solve a lot of problems using the skills Sing and Dance for ritual support of other players or in worship. For conflicts, there are war songs, battle cries, and war dances, possibly intoxicated on drugs or ritual drinks.
In the new treatment, Ernalda becomes an active deity rather than the damsel in distress.
We go through the other Earth goddesses:
Babeester Gor is the always angry death-wielding daughter of Ernalda. Fairly easy to play, but possibly a bit one-dimensional.
Maran Gor , the Earth Shaker goddess, who still remains a challenge for an interesting character concept.
Ty Kora Tek, which lets you play a necromancer in Glorantha. Ty Kora Tek is the twin sister of Asrelia, only mentioned as an associate cult in the core rules. She is the caretaker of the souls of the dead, an Underworld goddess who welcomes the dead as they let go of their mundane lives and rest in her halls waiting to be reborn. This makes her an important part of the cycle of life. Ty Kora Tek provides a good afterlife for the dead, as long as their descendants commemorate them with sacrifices and rites. Her role starts with the proper burials of the dead, putting their ghosts to rest, etc.
Claudia points out one problem with all the Earth pantheon cults – all the cool spells are usually rune magic. While you need to be careful about spending your rune points, the spells tend to be kick-ass – Claudia riffs off about Earth elementals, Command Ghost, and others.
Ludo addresses the gender (or sex) limitations of many of these Earth goddesses, at least at the top ranks in the hierarchy.
Katrin re-tells the Making of the Storm Tribe and how Ernalda manages and manipulates all those disorganized and selfish Storm deities, giving them a common foe to unite against. At the end of these events, Orlanth asks his wife how the foe knew about where the meeting was to take place, and Ernalda tells him not to worry about that. Which Orlanth wisely does.
Ludo asks about the relationship between Ernalda and Dendara, and Katrin points out that Dendara (who is mainly the wife of Yelm) is mainly the goddess of wives, whereas Ernalda is the Queen of the Gods and the representation of the Earth without which nothing works.
Ludo points towards Esrolia as the center of her cult's power, but Claudia stresses her importance already in the more male-cult dominated Sartar. In Nochet, she is the absolute ruler, and can dictate what to do, while in Dragon Pass she has to be a bit more roundabout, reminding kings as well as ordinary people that her blessings come with a cost (sacrifice and worship), and that she can become a bit ugly if neglected.
Ludo asks about the importance to have those female avenger cults like Babeester Gor or Maran when Ernalda has all those husband protector cults she can throw into the breach. Claudia reminds us about the scarcity of worshippers of these cults in Sartar. Esrolia may see a slightly higher proportion, or at least significantly higher absolute numbers because of its much larger population.
Maran Gor has her special temple in the Wintertop area, the Shaker's Temple. Maran is the goddess of the wrathful earth and of earthquakes, with her worship mainly as propitiation to keep her from destroying or disrupting everything. Babeester is the Earth avenger, which is a rather narrow field.
Babeester Gor is also the lost daughter, standing for a lot of things that Ernalda doesn't do or encompass. Babeester is angry most of the time, something that Ernalda rarely is.
Katrin gives an example how to make worshippers of Babeester Gor less boring or stereotypical, by stressing the investigative aspect of chasing down offenders. Her hot pursuit of such criminals makes her a possible choice for playing a detective. Ludo talks about "Sherlock Holmes with an axe".
Ludo compares Babeester Gor's birth to parents losing their temper, and only to regret the outburst five minutes later.
Claudia emphasizes that roleplaying opportunities can be made where others don't see them. She talks about planning a role-playing session around a funeral feast with mysterious deaths, in the style of Agatha Christie.
Jörg sums up some of the ideas as having Babeester Gor as a James Bond-like provocateur with a license to kill where husband cults may balk at the prospect.
Ludo asks about how to attract more female players to Glorantha, and whether the cult of Ernalda is the vehicle to do that.
Claudia talks about the male and female archetypes available in RuneQuest and Glorantha. She mentions the considerable initial hurdle to overcome when entering the setting, and how having some of these gender limitations may help a player new to Glorantha to identify with the character.
Once you have made your entry into the setting, you can play around with breaking the expectations of archetypes and requirements.
Claudia tells how almost dying in childbirth gave her a different perspective on motherhood and parenthood in the setting.
Katrin agrees that while some aspects of Bronze Age life and how Glorantha works may appear stark and disturbing, dealing with those can make the experience of the setting richer.
Claudia recounts how she played in the Esrolian campaign around (future) queen Samastina, and how the party made sure that the character got pregnant from an important political marriage, and how Claudia's Ernaldan priestess helped make sure that she became very pregnant, actually resulting in twins being born. There also were processions where the pregnant queen would emphasize her pregnant belly to the onlookers with gold dust, etc.
On a less exalted level, having a big feast in the village when asking for the blessings of the gods, slaughtering the sacrificial animals and making good dishes out of the meat.
With Ty Kora Tek, it is surprising how many ghosts you can control or lay to rest, gaining quite a bit of oomph out of that.
It is OK to be relegated to a support role in battle situations when you lead the social interactions, which can take up more of the game than actual combat.
Ludo brings up the political game, with intrigue, creating a social as well as an information or even spy network, with lots of minions and followers.
Claudia points out that you will find an Ernaldan shrine or better in even the tiniest village, which allows players of Ernalda cultists to have some sway or, at least, contacts anywhere they go.
Jörg points out that Ernalda is the wedding planner of basically everyone, and the networks of exogamous marriages will give you a female kinswoman in every other tribe.
Claudia emphasizes the role of Ernalda as the wise woman, allowing a player to inject her ideas as divine wisdom into the community.
Katrin talks about that little Ernaldan babooshka you will find in every village without whom everything would cease to function.
Ludo laments that RuneQuest combat can hog a lot of game time, making it hard to keep non-combat type characters engaged in such segments.
Claudia suggests being creative about skills and their application, like challenging Jar-eel using her dance skill, hindering her enough to be able to attain a heroquest station objective despite her opposition. This is well beyond the normal scope of the skill, but in the situation (in a magically different environment) it gave her character a handle on the situation. (But then, that is more of a Questworlds mindset of how to use interestingly named skills.)
The rules system is a guidance, not something set in stone.
Claudia also advocates to leave the healing to characters other than the Earth worshippers. We also learn about why Yanioth has a beast rune of 75%.
Katrin points out that there are better things to do than "I hit 'em with my sword" for three hours. In one of her games, a Chalana Arroy cultist had their snake familiar entangle a combatant's legs to take them out without actual bloodshed.
Claudia enthuses about Command Swine when facing Tusk Riders.
Jörg points out that all those monstrous swine were ultimately sent against the people of the region as punishment for neglecting the goddess, showing the ugly side of the cult.
Claudia admits that her earth worshippers tend to have some skill with axe and shield, but that is often more fun to stand back and use your skills in a more creative way. Rather than swinging a sharp implement for hours, she prefers supporting the fighters, cheer-leading them or raising the onlookers as a support force to overwhelm the opposition.
Ludo compares the role of Ernalda as a support character with multi-player video games. Claudia points out that while that may be the case in combat situations, the Ernalda player will often take the spotlight in social interaction, possibly having been the matchmaker for a local, being the first to get access to dirty secrets etc., likely side-lining the combat types.
"There is always another way": Ludo asks about situations where an Ernaldan character would have spoiled a perfectly fine opportunity to have a battle.
Claudia recalls one game that had been very battle-heavy, to the extent that the entire party decided it was too dangerous, leaving the challenge unanswered. That made for a very short game as the GM had prepared mainly for that conflict.
Other GMs including Jeff experience again and again how a game unfolds very differently from what they prepared, often because of group dynamics, so that may actually be "the other way".
Sometimes this can come about from real world influences. Katrin reminiscences about a case where a player had to leave abroad for two (weekly) sessions, returning to come into the chaotic aftermath of an attack on their community, gracing the other players and their characters with a scathing "I leave you alone for two weeks, and that's what happens!"
Heroquesting for and with Ernalda and female archetypes: Claudia gives us a small peek into the playtesting of the new heroquesting rules, using Greg Stafford's old maps of the hero plane (quite likely something like the "spiral map" that is shown in Arcane Lore) which had aspects of the earth pantheon. Meeting Aldryami, stone trees, doing "not very kids-appropriate" adult interaction, playing with the archetypes and the runes and passions. In the end, runes, passions and rune spells are the major elements that you use in the hero plane rather than mundane skills or average spirit magics.
Carrying children into battle? Putting the peace into a battle scene? Or rather putting Darwinism into action, survival of the fittest? Claudia retorts that Ernalda likes (watching) a fight, then marrying the victor. "Marrying for a year and a day is fine, it's enough."
Ernalda has very weird children? "They are all beautiful". Then Katrin mentions how difficult it was in the catalogue of the gods to fit all of Ernalda's children into the diagram.
Ludo asks how pregnancies and having kids works out inside the game. Claudia reports how some aspects of real life arrangements getting the grandmother to look after the children crept into the game once, still being easier in game than it would be in real life.
"All the interesting magic is rune magic". Does Ernalda have a big advantage in that regard? Claudia advocates to go for the throat, dropping the rune spells for good effect, and enjoying failure when it happens as those moments can be the most memorable (and the most fun, at least in hindsight).
Claudia's favourite spells for earth worshippers:
Earth Elemental
Command Ghost (slay first, interrogate later)
Inviolable
Charisma
How does use of Charisma work out in the game? Ludo points out that the skill boost is likely minimal, but Claudia answers that you don't need to roll skills, and just play to the story.
Katrin reminds that RuneQuest is not a game of slow attrition, but of few periods of high tension and glossed over dull everyday life.
Claudia also confesses that the GM may award the players regaining the rune points as a reward.
Jörg asks how to make getting back the rune points fun in the game, and Katrin's suggestion of sacrifice and rites gets appropriated by Claudia's "a roll in the field", which leads to the question how much of a veil you drop onto the resulting sex and drugs and rock'n roll. Unsurprisingly, it depends on the people you play with.
In conclusion, Claudia talks about her two images of Ernalda – one is the voluptuous, broad-hipped fertility goddess, the other are the Minoan snake-dancers. Katrin confirms that those curves are a necessary feature when she is drawing Earth characters.
And with that, we conclude our episode.
References
While quite a few of the projects mentioned above still need to get published, here is a list of works already that feature Katrin's stunning art prominently:
The History of Malkionism by Nick Brooke, illuminated by Katrin Dirim, with extensive bonus material on the art direction
The Six Paths, a sourcebook on gender among the Heortlings, by Edan Jones, art by Katrin Dirim
You can see Claudia play her Ty Kora Tek necromancer, Gina Gravedancer, in the White Bull actual play series.
Credits
The intro music is "The Warbird" by Try-Tachion. Other music includes "Cinder and Smoke" and "Skyspeak", along with audio from the FreeSound library.
Podcast: Play in new window | Download (30.5MB)
Subscribe: Apple Podcasts | Google Podcasts | Spotify | RSS | More