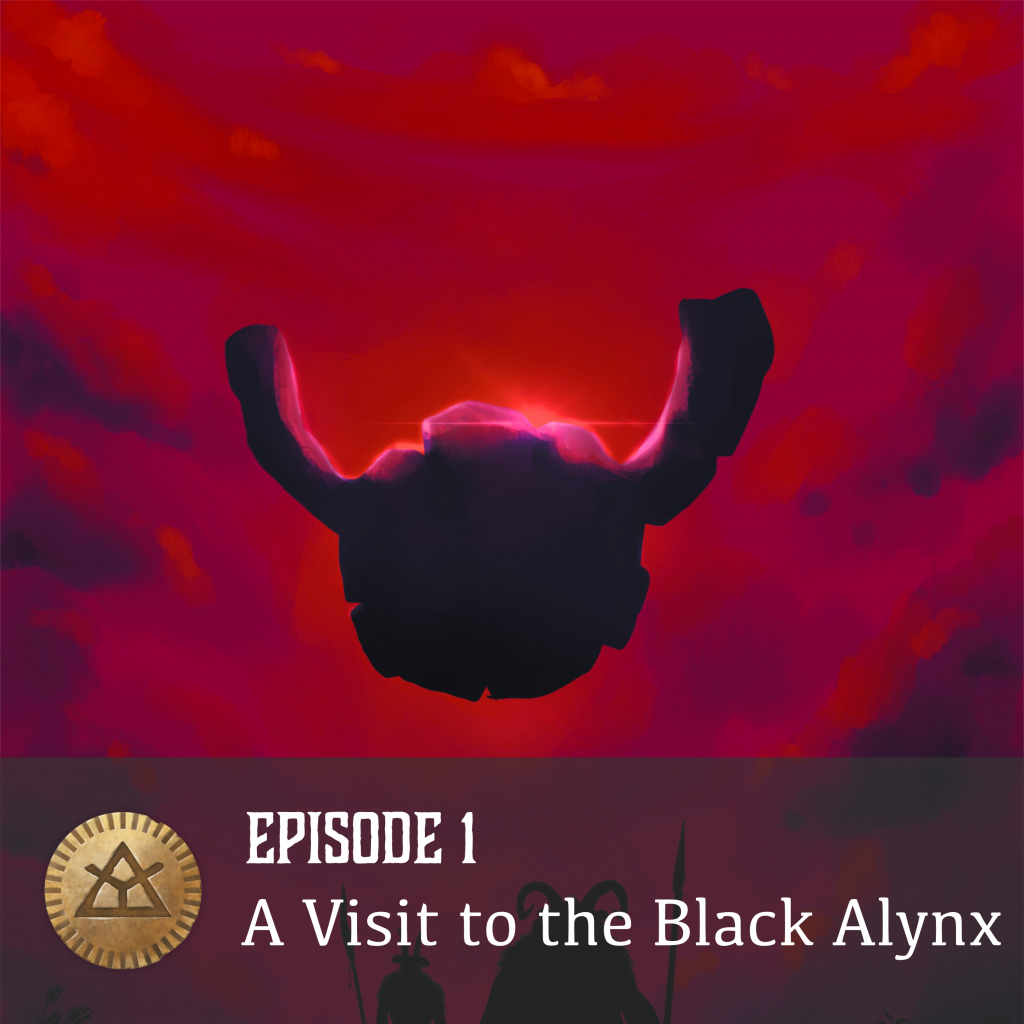 For our first episode of the God Learners Podcast we are visiting Neil Gibson, proprietor of the Black Alynx inn in the seedier parts of Jonstown. Neil's podcast "Tales of the Black Alynx" had a series of interviews with creators of the Jonstown Compendium, but it is missing one significant contributor – a certain Neil Gibson, author of "LEGION". We are aiming to amend this omission…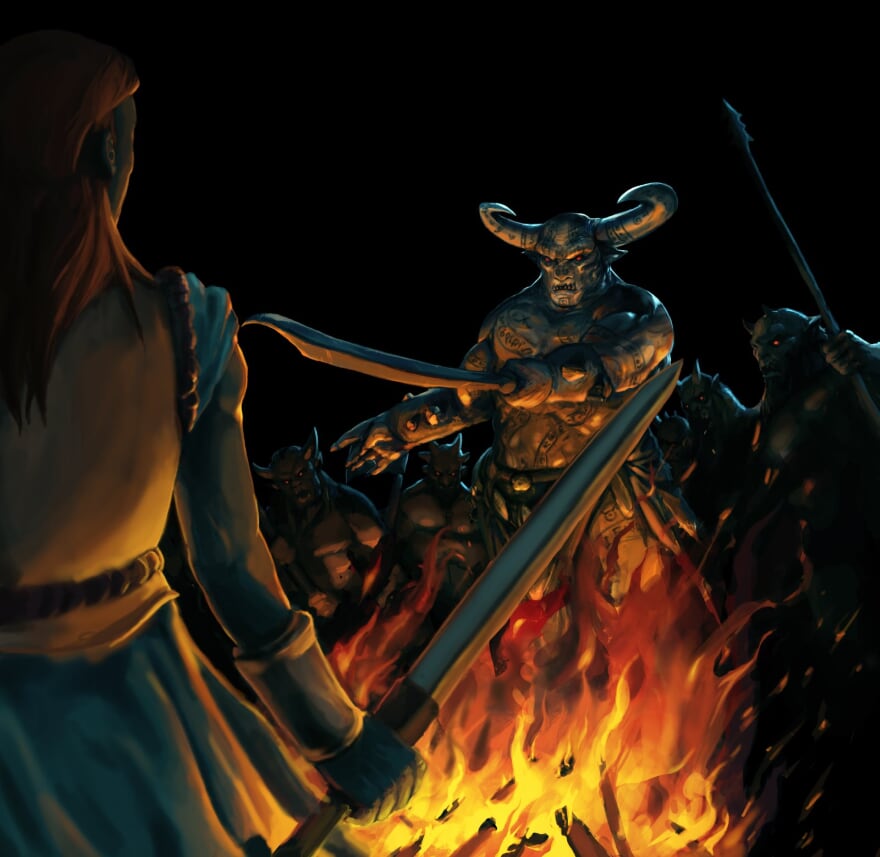 Recent News Items:
The Red Book of Magic is available as a hardcover now (at the point of writing this, not yet in Austrailia).
And if you like the great cover by Mark Smylie and want it as a print or on any number of useful items like mugs or shower curtains, Chaosium's Red Bubble store will take your money.
There have been plenty of postings by Chaosium with previews of the art that is going into the Gods of Glorantha books.
Loic Muzy has contributed 170 pieces of art, among these a portrait of each of the 100 cult deities. There is a huge piece by Agatha Pithié depicting the monomyth, or at least an impressive number of important scenes from it, and the Prosopaedia will be illustrated by Kathrin Dirim.
There is a thread with many preview pieces on BRP Central.
In recent time, Jeff Richard has also shared numerous previews on his current Glorantha developments on Facebook, and because of the fleeting nature of Facebook streams, these posts have been documented in other places, among others in our newsletter.
Jeff shared a list of foundational documents of Glorantha lore, and a list of some other publications which are strong but not infallible influences on the current Glorantha canon, among other places on the Well of Daliath. While we're at it, we talk about our own research and inspirational sources.
We are talking about the imminent price raise of high quality Print-on-Demand books from DriveThruRpg, including those of the Jonstown Compendium, and a sale on such books before these new prices hit the platform.
We talk briefly about the change in the portrayal of Sartar from a land of rural clans with heroic but rather hidebound hill dwellers to that of a cosmopolitan crossroads of trade and magics with vibrant cities full of architecture that you expect from ancient civilizations.
We talk about real world information on the Bronze Age and related periods.
Interview with Neil Gibson
We ask Neil about his beginnings in roleplaying, and Neil tells how the switch from D&D to RuneQuest changed the way of playing.
We learn about his experiences exploring the Big Rubble and the Elder Wilds with RuneQuest Second Edition, his path through other systems like Call of Cthulhu, Bushido, and Car Wars, how his roleplaying career took a hiatus when Gloranthan RuneQuest disappeared, and how his enthusiasm was re-kindled with the publication of RuneQuest: Roleplaying in Glorantha.
Neil relates his efforts roping in his children, and his online experience on early Sunday mornings, a RuneQuest third edition game set in mythical Wales, and plans to run a local RQG game from the Starter set.
We talk about Legion Games and "LEGION", Neil's first offering on the Jonstown Compendium.
Ludo meant to cite Jason Durall, not Steve (Perrin?)
Neil talks about the fun he had creating these broos, and gleefully presents the fun that can be had with diseases carried by broos, including a few new ones he published there.
We talk a bit about NPC collections as roleplaying supplements, and how they evolved from mere repetitive stat blocks into collections that give us motivations, interaction with other NPCs, and scenario hooks.
Neil reveals how LEGION was created as a practical application of creating a script to produce stat blocks for another project he has in the works.
LEGION is in fact the first of quite a few publications in the Jonstown Compendium by Legion Games, a company that Neil created with Drew Baker, the author of the Rubble Redux series and a number of other Legion games supplements. Neil and Drew have some projects in the pipeline, too, including a board game.
Legion Games has a bundle of all their products to date out in pdf.
Other than broos, Neil is in the process of preparing a collection about an even more vile foe: Ducks. (But then that remark may have been quackist.) The ducks are to avoid the Disney tropes and the pure comic relief approach, and will detail two quite different populations of ducks – downtrodden ones in Dragon Pass, and fairly successful and proud in Esrolia. Neil has roped in a new artist for this project, Thomas Connell, who offers a preview of the Duck style on his ArtStation page.
Neil continues working on his campaign putatively titled Into the Wastes, planned as a series of three books, the first named Flower Girl set around Bullflood in western Pavis County, the second in Indagos a little further to the east, and finally an exploration of ruins of Genert's Garden in the Wastes. The books are planned to provide some gazetteer of the places, scenarios and plot hooks.
We talk a little about publishing on the Jonstown Compendium, how the earnings from sales mostly bolster the war chest from which illustrators are hired to increase the quality and appeal of the products, often after the initial release.
Neil has his own podcast, The RuneQuest Project, available on all the major podcasting platforms. Starting out with actual play episodes, about a year ago Neil switched to a series of interviews with publishers on the Jonstown Compendium, starting a series titled "Tales from the Black Alynx". Neil is planning to pick up some interviews, and plans to go after the artists now.
Neil talks about his most anticipated releases from Chaosium for Runequest, the Sartar box and the Starter box in particular.
Finally, we ask Neil for his personal runes. With Neil's choices the only cult we could think of is a revelation of the God Learners…
Credits
Images in this post are courtesy of Legion Games. The intro music is "The Warbird" by Try-Tachion. Other music includes "Cinder and Smoke" and "Skyspeak".
Podcast: Play in new window | Download (29.7MB)
Subscribe: Apple Podcasts | Google Podcasts | Spotify | RSS | More