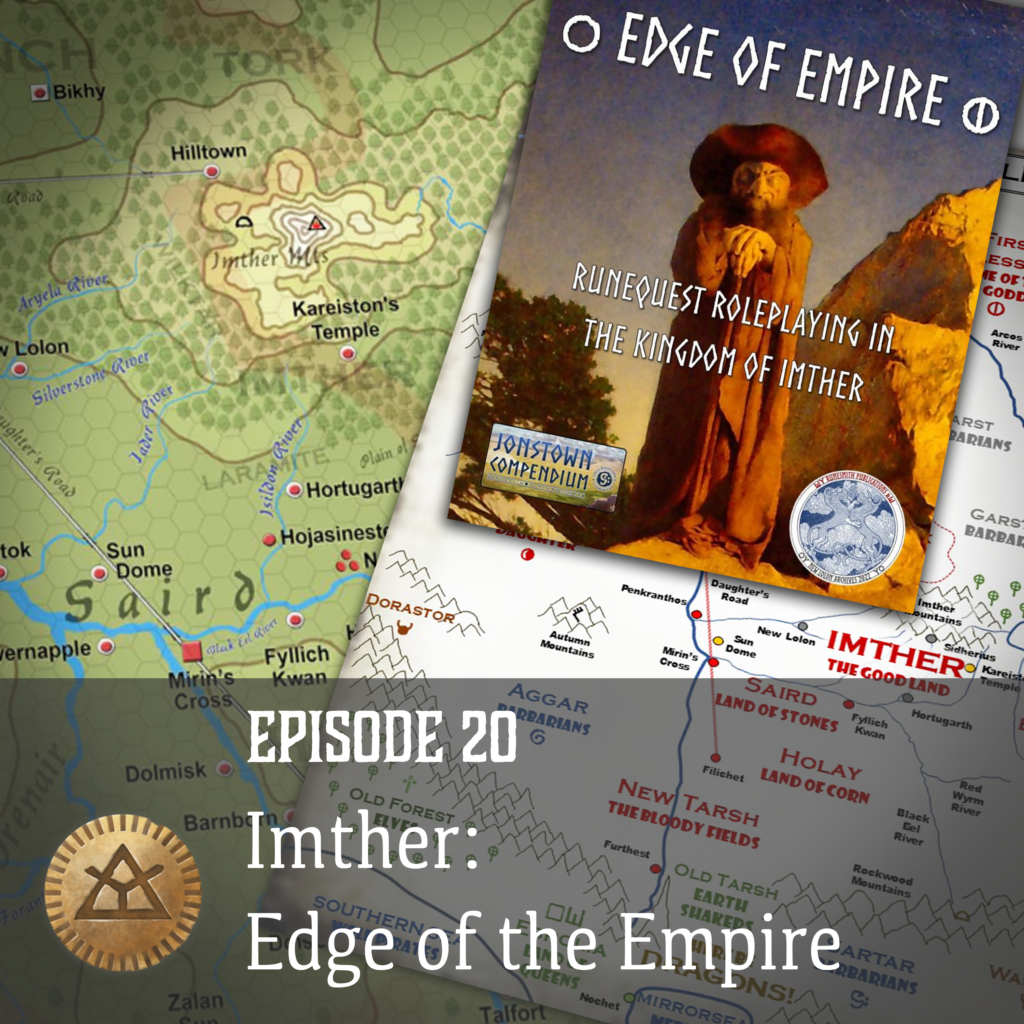 Our guest for this episode is Harald Smith, aka Jajagappa.
You can also find Harald on the Facebook RuneQuest group and Jonstown Compendium Creators Circle group.
Introduction
Jajagappa is the dog-headed psychopomp of Saird, known for his net. Harald grew fond of this deity when diving into Saird, the region north of Dragon Pass.
Harald started in the early eighties, in time for the classic RQ2 campaigns, and followed through the RQ3 era until he sort of dropped out in the late nineties. He resumed his activity around the time the Guide to Glorantha was in preparation, and has been one of the more active posters on the forums since.
When he returned, Harald played a few games by forum.
Harald speaks about different pace in that kind of game, how to apply GM techniques, and the technology that a platform like rpg-geek offers. Some of Harald's game are still on rpg-geek.
RuneQuest Glorantha games:
HeroQuest Glorantha games:
Main Topic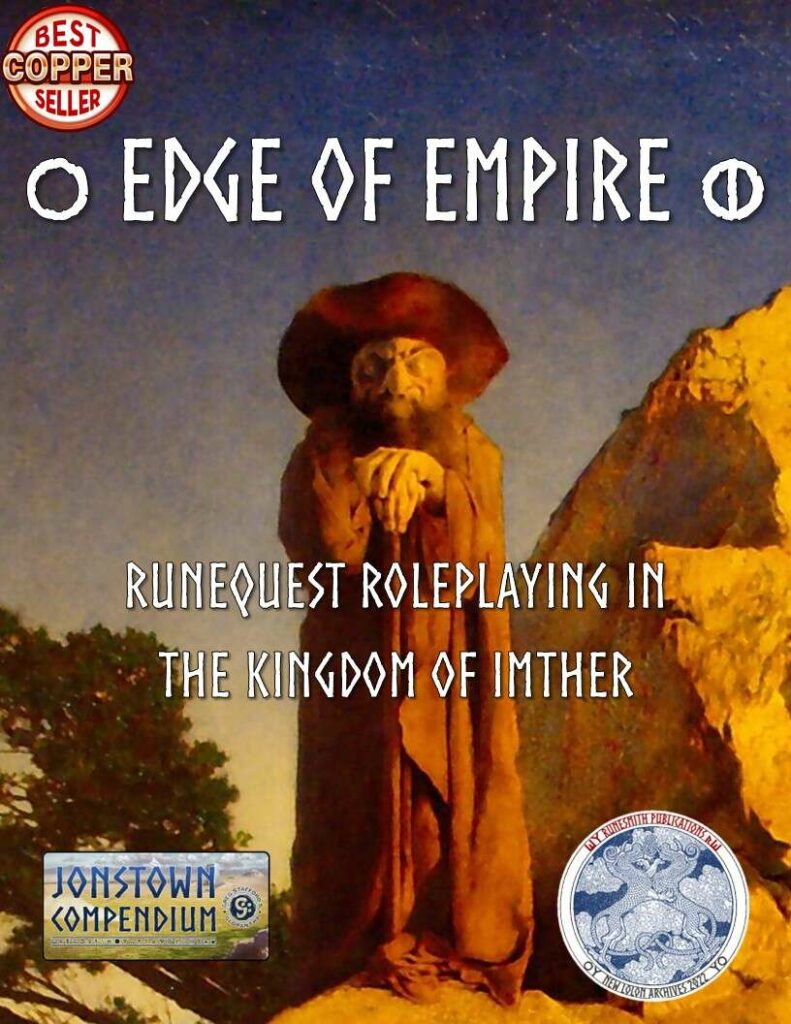 Edge of Empire is a supplement for playing RuneQuest in the Kingdom of Imther.
Harald describes Imther as the smallest of the Lunar Provincial kingdoms, and its position.
Imther has been part of the Lunar sphere for centuries and doesn't have the sense of being occupied by foreign troops that was so characteristic for Lunar occupied Sartar and Pavis.
The mountains of Imther are also home to a colony of dwarfs which used to trade metal with the King of Imther, but that lineage has died out, and for the trade to resume there needs to be a new king who gains tthe trust of the Mostali.
Another main topic is the interaction with the Lunar Empire.
When the Empire still was young, a hero from Imther by the name of Jannisor nearly conquered the empire, but got betrayed on the bridgte to the Red Moon in Glamour.
This was followed by the campaigning of the Conquering Daughter who esstablished the provincial Kingdoms, and who built the branch of the magical road reaching to Hilltown in Imther. She turned the barbarian lands of Sylila into a Heartland satrapy.
North of Imther is the forbidden land of Tork, a land where Jannisor bound the maddened and chaotically tainted followers of the Mad Sultan, survivors of the First Battle of Chaos, and how violating its fluctuating border may release them.
South lie the provincial kingdoms of Holay and Saird with the Provincial administration, an area where Dara Happan and Orlanthi culture have merged over the centuries. Northwest lies Vanch, another sort-of Orlanthi kingdom whose people are adept at "borrowing" things and customs permanently.
Harald's version of Imther wouldn't be complete without the local variants of known cults whose cult write-ups are part of this book.
Most prominent is Khelmal, a local take on Yelmalio with a few peculiarities, and local myths. Then there is Nealda, a local name for the Earth Goddess with local myths in addition to known Ernalda myths.
An important role falls to the trickster gods of Imther, the most important of whom is Orlantio, a variant of Orlanth. There are compelling reasons to keep a trickster in your clan.
Then there is the Imtherian pride in their cheeses, shared by the author. Some of the first published texts on Imther (in Codex Vol.3) was about the cheese.
There are many flavour pieces in the book that help get a sense for the region. There are examples of Imtherian sayings and similar commonly used phrases and references to local myths. There is also the "Lunar Survey" which offers an in-game view on Imther through the perspective of the Lunar empire.
We ask Harald about the history of his work on Imther. He originally picked an area of Glorantha that was underdeveloped to do his own thing. Then he pitched the idea of an Imther sourcebook to Chaosium/Avalon Hill but the timing wasn't right. Harald shared and developed his work through the Glorantha Digest and the gaming conventions of the time.
This eventually led to two issues of the short-lived fanzine New Lolon Gospel (more here). Harald and Joerg even briefly discuss the different covers of various international printings of the fanzine.
Harald also mentions working with Greg Stafford and Jeff Richard, and having some of his creations canonized.
Ludo asks how the Orlanthi of Imther ended up herding goats and making goat cheese.
Ludo follows with how Edge of Empire has a cool clan creation section with many possible foundational myths for your adventurers' community. This came from the HeroQuest material, which had something similar.
Harald discusses how he portrays dwarfs in his game. Edge of Empire includes several example conversations to be had with dwarfs, and this showcases Harald's very particular choice of speech patterns for this obscure Elder Race.
Edge of Empire contains many tools for procedural play. Joerg praises the book as being the closest to Griffin Mountain on the Jonstown Compendium, with Griffin Mountain being the gold standard for sandbox exploration games. Harald says that he wanted to provide the necessary tools for people to design their own campaign in Imther. More "proper" scenarios might follow in further sourcebooks.
Joerg says we should talk about Harald's cartography work. Ludo says that he is mostly interested in Harald's amazingly complex map of Nochet. Lots of little buildings and, we learn, other maps about underground waterways (because he had an Esrolian game that required knowing about this!)
You can see the map of Nochet here. Harald talks about the various maps he's done over the years, some of which are visible on BRP Central.
We go into our usual "wildcard questions", with a few digressions on Borderlands or the evolution of Glorantha's canon over the years.
Harald teases a few different campaign books he's considering writing to expand on his Imther sourcebook. Harald also recommends looking at Peter Hart's Hydra book for resources on playing in the Lunar provinces.
Some of the art in Edge of Imther is done by Harald's daughter Rebecca Smith. Check out her portfolio. She takes commissions including characters (B&W or colour) and cover designs!
Harald will be at Chaosium Con 2023, and will even be running a panel on Exploring Glorantha beyond Dragon Pass and Prax.
Credits
The intro music is "The Warbird" by Try-Tachion. Other music includes "Cinder and Smoke" and "Skyspeak", along with audio from the FreeSound library.
Podcast: Play in new window | Download (36.3MB)
Subscribe: Apple Podcasts | Google Podcasts | Spotify | RSS | More