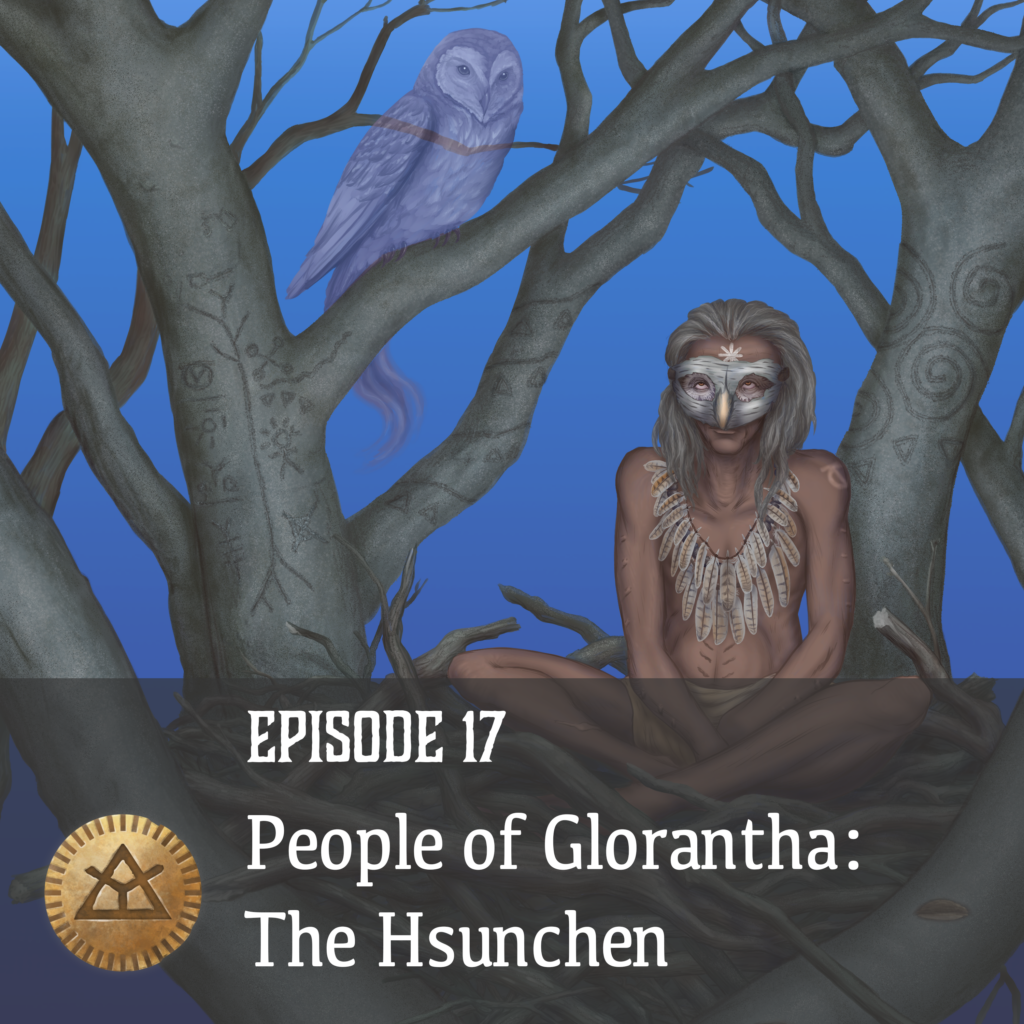 We are back into Gloranthan anthropology (more or less) for this episode, with our guest Brian Duguid, author of Children of Hykim. By virtue of having literally written a book on the subject, Brian is an expert in the Hsunchen, the stone age people who are each associated with a tribal totem animal.
This topic might be rather unfamiliar to newcomers to Glorantha, since the Hsunchen are only mentioned briefly in the core RuneQuest books — mostly in the entry for the Telmori Wolfbrothers in the Glorantha Bestiary.
Joerg wasn't available for writing these show notes so they are a lot shorter and less detailed than usual.
In this interview, we talk about:
Brian's path from playing RuneQuest in his youth, going through a deep-freeze, and coming back to Glorantha in the post HeroQuest / Guide to Glorantha era… and the massive amount of materials that this brought upon fans.
Who the Hsunchen are, and what the average RuneQuest adventurer might know about them.
What does a "stone age culture" looks like.
Who is this Hykim, and what do Hsunchen myths look like.
Hsunchen magic and the problem with RuneQuest's Transform Self spells.
Bringing Hsunchen NPCs into your adventures set in Dragon Pass, and sending your PCs out into Hsunchen lands.
Portraying Hsunchen NPCs.
Playing Hsunchen adventurers, and the themes and locations of a Hsunchen campaign.
To learn more about the Hsunchen, the main two sources are:
The Guide to Glorantha (especially Volume 1): it's pricey but it's a giant pile of awesome information, and a great source of ideas for any gamemaster. The PDF version is a lot more affordable, and the one I personally use almost all the time by virtue of being searchable.
The Children of Hykim (of course): it's non-canonical (for whatever that's worth to you), but not only does it give detailed information on many Hsunchen tribes, it also provides rules for creating and playing Hsunchen characters.
Podcast: Play in new window | Download (39.5MB)
Subscribe: Apple Podcasts | Google Podcasts | Spotify | RSS | More